Twitter: We recommend you to change your pasword.
Twitter said on Thursday that it found a bug in masking/hashing process which saved the password in an unprotected internal log and recommends all 336 million users to change their passwords for security reasons
Twitter is alerting every users with a pop up box that will take you directly to the reset page. Here's what it looks like: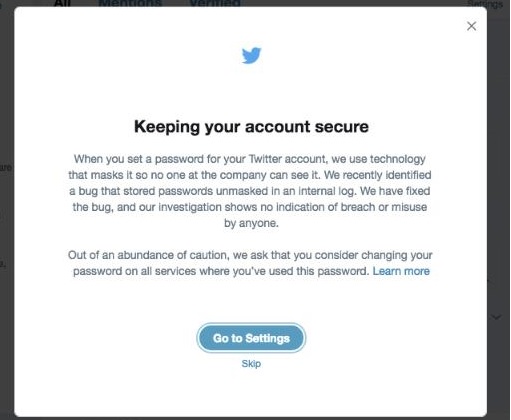 Or if you want to do it yourself, You can change your password by visiting Twitter's password reset page.
Twitter safeguard your passwords in a process named as hashing. This process saves the password in the form of random characters so that the privacy of your password is maintained. The bug which they found in their algorithm(bcrypt) stored the passwords in the exact plain-text form and saving the exact password in the Internal log.
Although twitter said that they have not find any evidence of data breach from their database, however changing the password is what Twitter recommend.
Here is what Twitter Support Team Tweeted:
Twitter CTO Parag Agrawal tweeted about the same and said,
I changed mine!! You Do It Too.