A father is a daughter's favorite Superman; he will go to any extent to make his daughter happy. There is no perfect bond like these two shares.
Daughters always share a very special bond with their fathers and a father is always the first man that enters a girl's life and is also their first best friend. Every girl looks for a guy like her father when she plans on getting married to one and the most painful goodbye a girl ever has to say after getting married is goodbye to her father.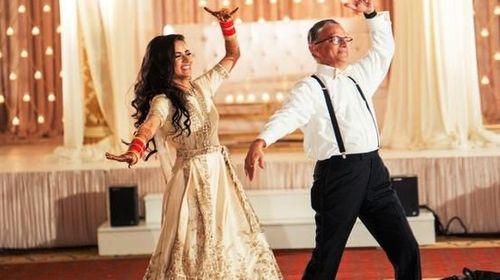 To make this bond even more beautiful, you need to choose songs that describe the best about the daughter-father duo. For that, we have combined a list of 15 Father Daughter songs that you can dance to with your father during your wedding celebrations. These songs will tower up your emotions. So, get ready with your Saree/Lehenga; get your father suited in Sherwani to try Thumkas on these wonderful songs.
Here is the list of peppy songs for your special day with Daddy cool:
1. Dilbaro:
This emotional song is one that definitely brings tears to the eye whenever you listen to it. "Baba main tere mallik, tukda hoon tere dil ka, ikk baar phir se dehleez paar kara de" these lyrics are such that make you feel very emotional. Just a small recommendation, do carry a tissues with you because this song will fill you with tears.
2. Tu Jo Mila:
"Rooth jaana tera Maan jaana mera Dhoondhte teri hansi Mill gayi khushi Raah hoon main teri Rooh hai tu meri."
This is every daughter thoughts for her father. For the daughter her father is equivalent to god and life becomes easy when he showers his blessings. This song through its lyrics showcases the beautiful bond of a father and a daughter.
3. Laadki:
The lyrics "Dori yeh khinchi dori, palne ki tune mori, mere sapno ko jhulaya sari raat" says it all the song is a fond way of addressing your daughter.
4. Papa Ki Pari Hoon Main:
The name of the song says it all, every girl is their daughter's pari and every daughter is very special for their fathers and they never want their little girls to grow up.
5. Meri Duniya Tu Hi Re:
"Raat din tere liye sajde karu duwayein mangu re, mai yaha apne liye rab se tere balayein mangu re." This song showcases the pureness of the relationship a father and a daughter share.
6. Mahi Ve from Kal Ho Na Ho:
The name of the song says it all that a father will always see her as her little princess came from heaven. The song gives a father-daughter a good chance to showcase their moves. You can even call your close uncle to perform with you both.
7. Gud Naal Ishq Mitha:
A perfect authentic Punjabi song with a twist of Bollywood is the perfect song for a father-daughter performance. Fans of Bally Sagoo will agree that this is one of the best song for the occassion.
8. Mere Babula:
The tune of this song hits the right cords and this song will definitely amplify the emotions that a father and daughter face when she is getting married.
9. Babul Ki Duaen Leti Ja Ja Tujhko Sukhi Sansar Mile:
This one is iconic in it's own way. Every shaadi without this song is incomplete. The title of the song depicts a father always wants the best for his daughter, though it is always difficult for a father to let go his daughter, but he always wants the best for her.
10. Gudiya Rani:
The song is about how special daughters are and how one day a prince might come, and she will go away with him, but she will always stay special for her parents.
11. Mere Ghar Aayi Ek Nanhi Pari:
A daughter is always the angle of everyone's life and is always special to each family member and letting go of her is hard, but this song celebrates the arrival of a daughter into your life and why she should be celebrated.
12. Baba Ki Rani Hoon:
Feel like dedicating a song to your father for telling her how special he is for you then this is the song you should pick.
13. O Meri Jaan:
You need to be very sure to choreograph this song in the most cutest way possible. As this song celebrates the relationship between a father and a daughter and dancing o this song will give you both another level of peace and happiness.
14. Mere Papa:
The title only overflows the sentiment of a daughter. The two magical words will push your inner butterflies to dance on this beautiful song and burn the dance-floor.
15. Papa Mere Papa:
A perfectly stirring song for the duo. This emotional song is about a daughter telling her father that he is the most special person in her life and will always come first no matter what.
A father-daughter relationship will always be the most special relationship for any girl. A father is not just a daughter's first best friend, but is also her first love. A father can never see his daughter hurt and neither can a daughter. This bond is a very special bond and you should cherish it for life.
...