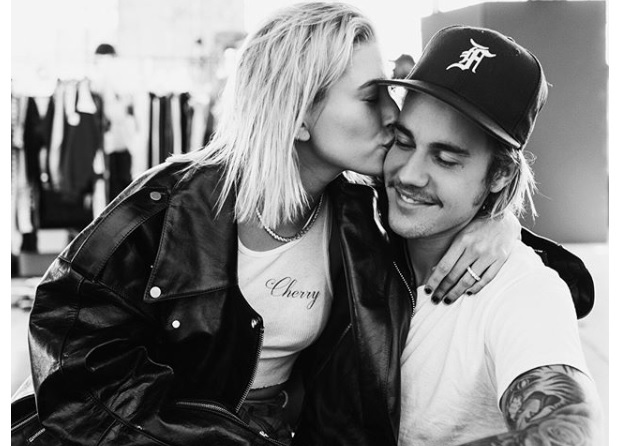 Finally, it's official and they are engaged!!

Right from the Singers mouth, Justin Bieber finally confirms the news of his engagement with the love of his life Hailey Baldwin. He admits, his heart belongs to Baldwin in the sweet Instagram post.

He posted a cute photo with her ladylove and also wrote that he got engaged to Hailey on the 7th day of the 7th month of this year(7th July).
The ladylove also posted a sweet message for his king: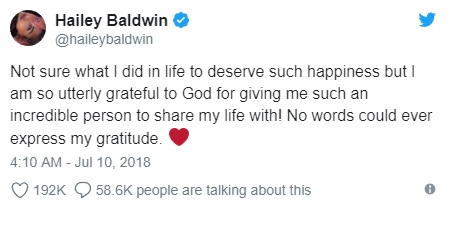 Justin thanked the lord!! Ironically they got engaged on 7th day of the month and 7th month of the year, which is considered very auspicious in the west. You can Google it, he said, and I did it. This is what Justin said on the coincidence:
Gods timing really is literally perfect, we got engaged on the seventh day of the seventh month, the number seven is the number of spiritual perfection, it's true GOOGLE IT! Isn't that nuts?
You can see how much he love his fiancee, and he actually thank her for being the support system.
My heart is COMPLETELY and FULLY YOURS and I will ALWAYS put you first! You are the love of my life Hailey Baldwin and I wouldn't want to spend it with anybody else. You make me so much better and we compliment each other so well!! Can't wait for the best season of life yet!.
Now, we understand it's difficult for the fans to galp this news because your chance to marry Justin is nill. And in case you are worried about Selena Gomez hearing about Justin Bieber engagement, you need not to worry because she is happy in her own space with her friends. She is more focused on her family and her career. She is a brave girl man!! She can handle every life situation like a lioness.
We wish you both a life full of happiness, wellness and also togetherness. Stay in love forever and ever, LOVEBIRDS!