The Style Queen of Bollywood, oops!! even Hollywood now.
PeeCee stole all the limelight and why not?? She was looking like a Divine Goddess.
O-so-sorry, even the hearts were stolen at the event, and I am glad to say it's all done by our lovely PeeCee.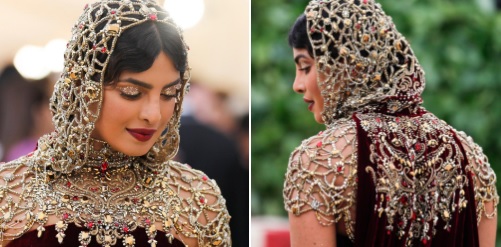 Priyanka Chopra walked the MetGala 2018 red carpet in a heavenly Ralph Lauren velvet evening gown.
What PeeCee wore has made everyone's mouth open and eyes pop-out. This Ralph Lauren velvet evening gown is all hand-made, even the gold mail coif embroidered hood. Swarovski crystals, meticulous beadwork are used to make this gown phenomenal. It took over 250 hours of time to weave everything.
Hats Off to Ralph Lauren for their amazing work.
I can't put my eyes of her, She is looking so godly!!
I told you before!!
Still does not trust me??
Even twitter can't stop praising on her fashion chutzpah, Check it out!!
See,Even CNN International tweeted
Pheww!! Saw it from your eyes? I told you before.