The wedding rituals have commenced in the Kapoors and Ahuja's house. The house is looking like a proper Shaadi-wala-ghar. The lightenings, the dhol-nagaade, the full on masti is seen on everyone faces.
The Mehendi design on Sonam Kapoor has been done by Mehendi artist, Veena Nagda.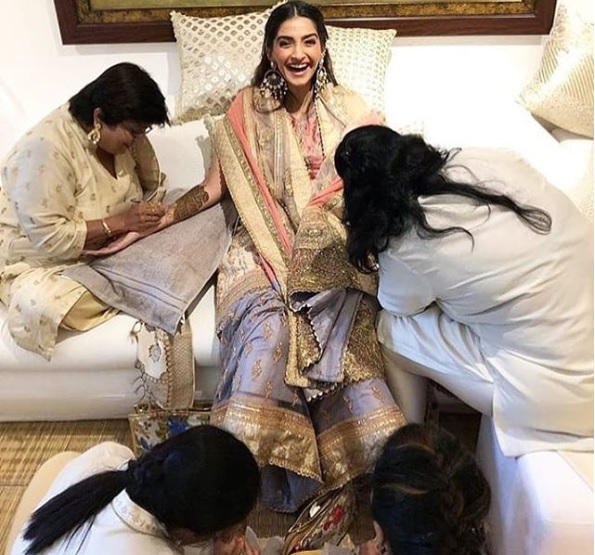 Today evening was the Mehendi ceremony at Kapoor's house. Friends and family members attended the grand Mehendi ceremony and they do shake their legs on various Bollywood and Punjabi songs.
Soon-to-be married couple Anand and Sonam dressed in a colour-coordinated attire, pink.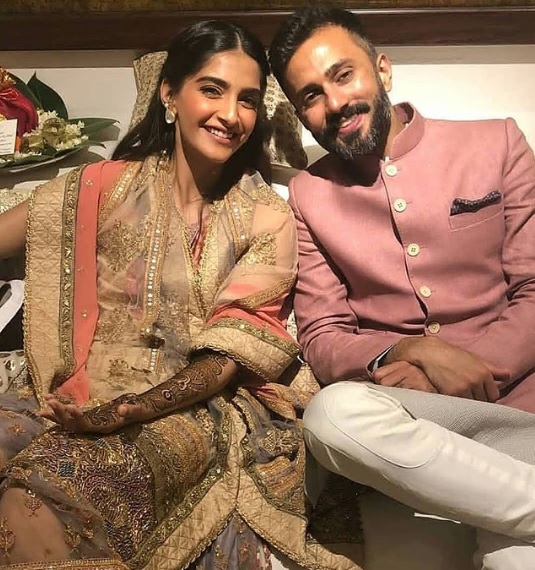 We can actually see Anand Ahuja smile, how excited he is!! He cannot wait even a day now. His smile has said it all. Both look so adorable together you lovely couple.
O-Cutie-pie... O-Cutie-pie...You even made us dance, Sonam.
The energetic Anil Kapoor Bhangra Dance is the most blasting thing that you can't afford to miss
The proud parents Anil Kapoor and Sunita Kapoor dancing together. The emotional moment too b'coz their daughter will go from childhood house. All the flashback from, playing in the sand to loosing her first tooth to the day when she gets married.
Rhea Kapoor is all get-set-dolled-up in her white attire, and her mehendi is giving a proper ethnic style.
Sonam macho brothers are ready for the photoshoot. You both are rocking beard guys.
The Kapoor sisters are all decked up in their beautiful regalia's.
The cutie couples storing some happy moments together while dancing on Race 2 song "Mujhe To Tere Latt Lagg Gayi".
Sonam and Anand Ahuja wedding is on 8th of May and will held in Mumbai. After her wedding, in a day or so, She will fly to Cannes.
Sonam Kapoor Ahuja And Anand Ahuja, Congratulations for your new innings.