As our brain was still not over with 'Rasode mein kon tha' rhyming and we got another addictive song, this time it is on none other than Arnab's well-chosen words on Republic Media Network. The dialogue has now become a mashup. Let me tell you the song is floating all over the internet.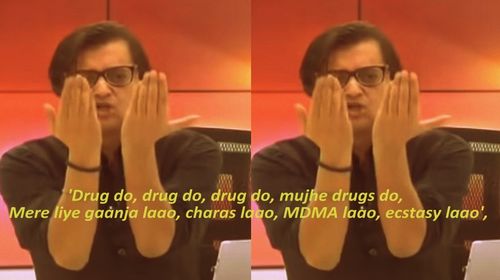 'Drug do, drug do, drug do, mujhe drugs do, mere liye gaanja laao, charas laao, MDMA laao, ecstasy laao', these were the exact words of Arnab Goswami on national television during the debate on Sushant Singh Rajput's death. Arnab was seen begging for drugs, although he was not asking for himself, he was enacting someone else.
So after the debate went viral, people started doing what they were best at, which is, making memes and creating mash-up's of his dialogues.
Some titled it as Udta Punjab audition by Arnab,
And some were motivated by Rasode mein kon tha, so they did make another viral video song on him.
Twitter user and music producer Anshuman Sharma ended up creating an addictive tune of his video clip and requested fellow netizen to kindly listen to his request and give him some drugs.
His drops on 'Mujhe Drugs Do' is going to stick in your mind for a long time.
After Anshuman video went viral, people praised his well selected tunes:
Arnab, you don't need drugs, you are the drug.
...