Dhanteras marks the beginning of the Diwali festivities. Dhanteras is also known as "Dhantrayodashi" or "Dhanwantari Triodasi" or "Dhanvantari Jayanti". Let your loved ones know you are thinking of them on this special occasion of Dhanteras. Send them these sweet personalized and creative images of Dhanteras wishes, quotes and messages.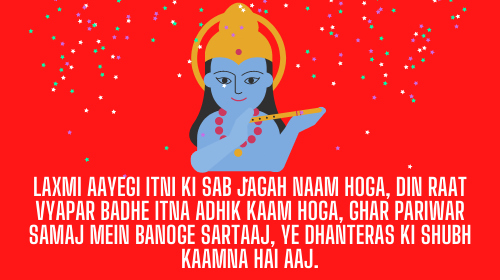 Do you know why we celebrate Dhanteras?
Dhanteras is celebrated to increase wealth and prosperity in the family. On Dhanteras people buy ornaments, stainless steel, gold, silver, broom because these items are considered highly auspicious.
It is said that on the day of Dhanteras, Lord Dhanvantari was born with the urn of gold from the churning of the sea, so it is the tradition to buy gold or utensils on this day.
Two days after the birth of Dhanvantari, Lakshmi ji appeared from the churning of the sea, hence the festival of Dhanteras is celebrated two days before Deepawali.
Here are the 2020 Dhanteras wishes, Hindi Dhanteras quotes, Dhanteras images, Dhanteras SMS and status for WhatsApp & Facebook.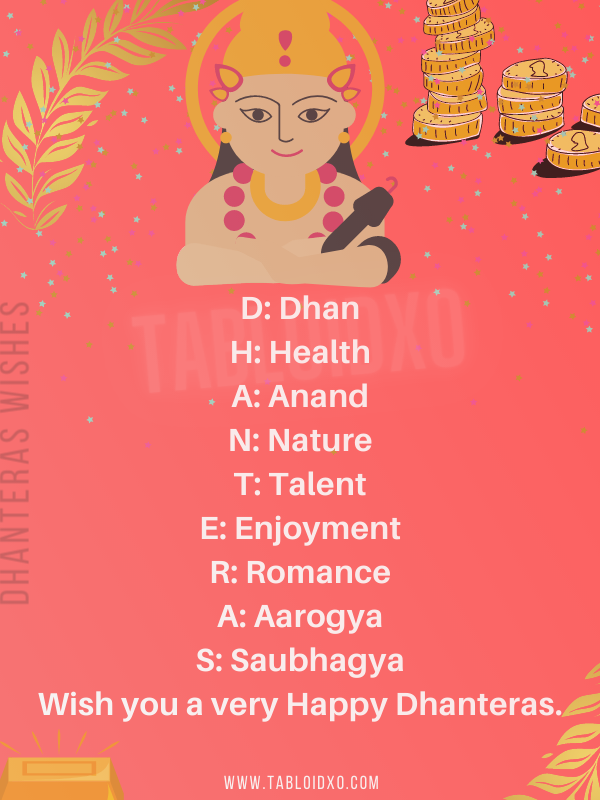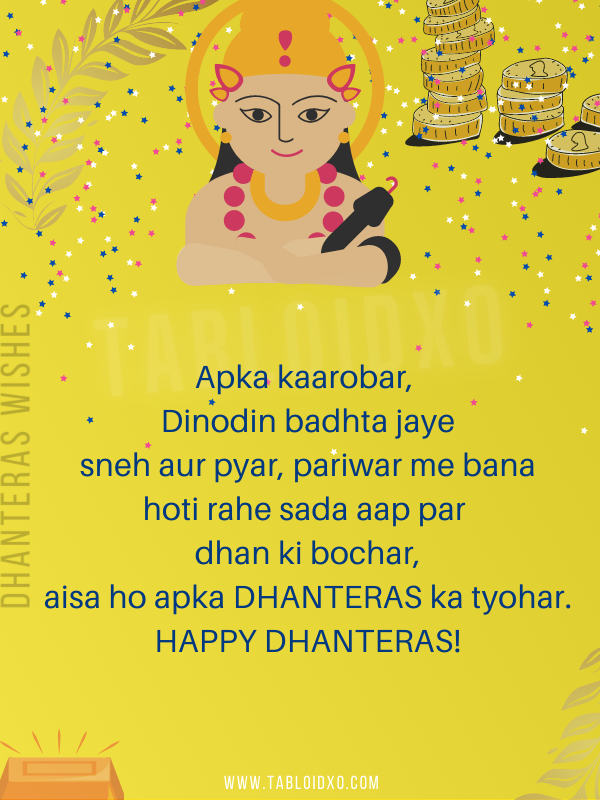 Dhanteras Ka Shubh Din Laaya Sabke Liye Nayi Khushiya.
Lakshmi Ganesh Viraje Apke Ghar Mein Sada,
Sada Rahe Sukho Ki Chhaya.
Happy Dhanteras & Warm Wishes To You.
Dear Goddess Lakshmi Bless The Recipient Of This Message
With 1000 Times Dhan.
Deep Jale To Roshan Aapka Jahan Ho
Pura Aapka Har Ek Kaam Ho
Maa Laxmi Ki Kripya Bani Rahe Aap Par
Dhanteras Par Aap Bahut Dhanwan Ho.
Happy Dhanteras.
Deepak Ki Roshni
Mithaiyon Ki Mithas
Patako Ki Bauchaar
Dhan Ki Barsat
Parivaar Ka Pyar
Mubarak Ho Aapko
Dhanteras Ka Tyohaar.


Source:

Source:

Source:

Source:

Source:

Festivities Are To Let Us Know
That Life Is Full Of Cheer And Smiles
May You Be Blessed On This Dhanteras
May Prosperity Be With You Mile After Mile.
Laxmi Aayegi Itni Ki Sab Jagah Naam Hoga,
Din Raat Vyapar Badhe Itna Adhik Kaam Hoga
Ghar Pariwar Samaj Mein Banoge Sartaj
Ye Dhanteras Ki Shubh Kaamna Hai Aaj.
May Bountiful Fortune Be Bestowed On You And Family And May You Receive Divine Blessings Of Goddess Lakshmi Now And Forever.
Shubh Dhanteras!
Laxmi Devi Ka Noor Aap Par Barse
Har Koi Aapse Loan Lene Ko Tarse
Bhagvan Aapko De THELE Bhar Bhar Ke Paise
Itne Ki Aap Chillar Paane Ko Tarse.
Happy DHANTERAS.
May Lakshmi Bless Your Job / Business To Do Well In Spite Of All Odds Like The Enduring Charms Of Gold And Diamonds. Happy Dhanteras To You And Your Family.
May This Dhanteras Fill Your Life
With Happiness, Cheer And Delight
May Each Day Of Each Year
Be Truly Wonderful, Amazingly Bright. Happy Dhanteras.

Source:

Source:

Source:

Source:

Source:

Source:

Source:

Source:

Source:

Source:

Design credits: Richa.




...