ONLY FOR GOOD OBSERVERVATIONAL SKILLED PEOPLE. Others, still can have a try.
CIA is challenging you, do you accept it? Maybe if you solve the mystery they hire you, seems like a good opportunity, right?

Lol.
The Puzzled picture was posted on the CIA official Twitter account which says: "Put your observation skills to the test."
The two images display a market with tall buildings around it. The buildings hold so many windows which in itself a big puzzle, but there might be a clue too.
Take a look at the two images below: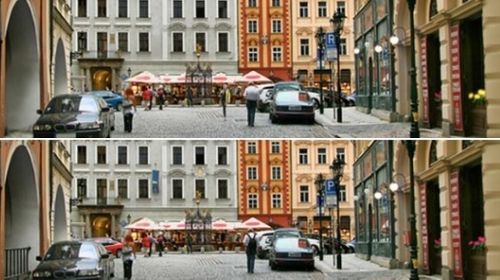 There are people walking down the road, the road is covered with some cars and flowers look blooming.
Do you see the differences? Look harder!
You might think it is going to be easy, but mate, it's the CIA, with them even the easiest picture seems to be hiding many puzzles and mysteries. I took a good 5 minutes to find out 9 differences from the 2 photos.
While some people on the internet spotted 9 differences, and some even went beyond 10. Everyone has their answers ready, how about your answer?
Could you find all 10 differences? If yes, how much time you took? And even if you found more or less than 10, do share it with us in the comments below. Let's become a team and do some collective work to find the final answer before the CIA reveals the answer.
...