It has rightly been said that 'true love never dies' and here is proof of that.
A Karnataka based businessman Srinivas Gupta celebrated his housewarming celebration on 8th August 2020 and he surprised all his guests by his simple yet sweet gesture, he installed a silicon wax statue of his late wife MVK Madhavi in memory of her in his new home.
In the year 2017 Srinivas lost his wife Madhavi in a car accident when they were traveling to Tirupati with their two daughters. After everything happened, the daughters and the husband survived the crash with only minor injuries, but the daughters lost their mother.
When she was alive, it was her ever-long dream to live in and own a bungalow. So, Srinivas decided to maintain her legacy by constructing a house.
After the completion of the house, he wanted to make sure that his wife's presence should be there. So to feel her presence, Srinivas contacted silicon artists who can make a statue of his wife. After the search and the time it took to complete the statue, Srinivas installed a silicon wax statue of his wife in the house and gave the people attending the celebration a surprise.
The statue is an exact copy of her, dressed in a magenta saree wearing gold jewelry sitting on a sofa. The videos and photographs of this small yet huge gesture are going viral all over the internet and people's hearts are overwhelmed.
In an interview, he told that it was her last wish to have a new house in Bhagyanagar, she was there when the land breaking ceremony was held. She planned everything for the house including 3D sketches of the new house, but in an accident, he lost her.
He also added, "We did not want to miss her during this ceremony, we wanted her to be with us. So, we planned to create her wax statue. It is a great feeling to have my wife again at my home, as this was her dream home."
An artist Shreedhar Murthy from Bengaluru took a year to prepare my wife's statue. Silicon was used for the statue for durability.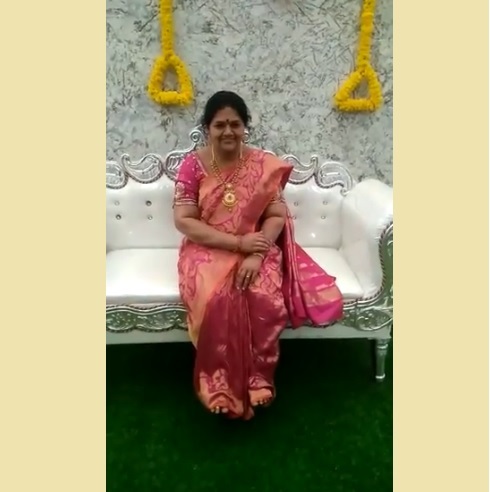 This portrayal of everlasting love has made millions believe in the fact that true loves exists and has made everyone emotional and netizens are gushing over his grand gesture for remembering his wife while fulfilling her dream.
...