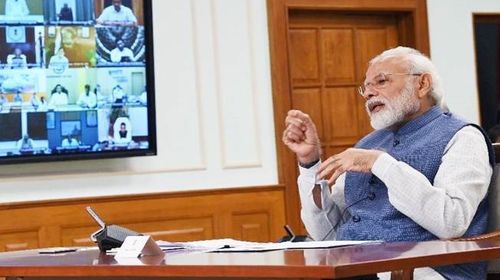 Let's begin the film from the flashback of two decades when there used to be a landline and we had to come to a particular point to take the call. The ringtone still echoes my ears. Driving down the memory lane, there were MP3, tape recorders, Walkmans, DVD/CD Players, huge computers with bulky CPU's, a big box Television attached to cable TV, and also the basic mobile phone which started emerging in the early 2000s. Comics & outdoor games were the only source of entertainment for kids. Assume the entry of Coronavirus at those times, the beginning, interval, and the climax would have been sitting idle at home with hardships for survival. Life would have been entirely arduous as compared to the present times.

Digitization was a mere concept initially, but with challenging times we have seen it pragmatically executed. Digital India is the vision of the Indian Government, which aims at providing e-governance, e-delivery of goods and services, e-payments, and much more. This would bring more efficiency in the system and benefit every stratum of Indian society.
Here's how digital mode came out as a blessing in pandemic.
Digital Transactions.

Earlier, small vendors like fruits and vegetable sellers, small grocery shop owners, delivery guys, tailors, so on, and so forth were not keen on using digital platforms. Since starting they had an inclination on cash payments. But nowadays during the lockdown, most of them have started accepting it as everyone understands that there is no other go. Google Pay, Paytm, & UPI are a couple of digital payment modes which has boosted digital currency flow in India




Online Classes.

Did you ever imagine school kids will be attending classes without going to school? Fortunately, we are ushering in an era of Online Classes which have become the mandatory new trend since lockdown. The teachers had neither thought of such sessions nor students ever imagined. But at the same time, studies had never gone for a toss.

Source:

Work from Home.

Imagine no digitization in place, no work to perform, probably no salaries pouring in (one of the wildest fantasies). Thankfully, there is Work from Home option that has taken the first place soon after the lockdown was implemented. Though it was only for certain internet-dependent sectors like IT companies, Medical Practices, Online Banks, Online Delivery of groceries, fruits, and vegetables are able to operate with an uninterrupted internet connection and speed. The physical business meetings have been replaced by online business meetings that are conducted across India through Zoom, Google Meet, Skype and many more technologies.

Source:




Entertainment.

Our life runs on three things- entertainment, entertainment and entertainment. What if someone takes out the fun element of your life? Life becomes horrible, isn't it? Well, you should follow the Tradition of touching the feet of Netflix, Amazon Prime, Hotstar which is helping you fight boredom by releasing interesting series, gratefully, not like our K series serials.

Source:91mobiles

Online fitness apps.

Online Fitness App like Curefit is fascinating us to the core by making people meet their fitness goals and most importantly, they are helping the fitness enthusiasts virtually meet big Bollywood celebrities. Didn't you try Nora Fatehi's session?

Online free professional courses.

Huh! No time other than work. Who want to do a lot of other stuff than the usual, lifetime event has taken place wherein you can spend some time on what you want. Good to reboot your career with Coursera, Udemy, Unacademy, and Edx are a few to name the online academies. They literally have polished the skills of professionals.

Source:




Hobby Classes.

Lockdown, a lot of leisure time and not much to do. I think, it is no less than a mental trauma. All credit to the internet; else you know where you would have landed into, monotony! There are several online hobby classes like Penkraft, Gobble, etc. Classes are conducted these days for art and craft, cooking, baking, music learning, and dance wherein a lot people can pursue their hobbies in this adverse situation and keep them engaged in some sort of activity.

Source:
It takes years for a small revolution, but sometimes things are enforced in a jiffy and that too in a big way. Although this unfortunate event of Corona is prevailing worldwide, there is still a positive, though the partial outcome of digitizing our lives to all intents and purposes. So, don't you think COVID is a blessing in disguise as it has changed the cognizance of people about digitization?
Do you not agree with me? Please share your thoughts about the same in the below comment box.
...