We are all going through a difficult time. At this point, we cannot compare the situation with anybody because everybody has their own share of challenges to overcome. Some people are stuck in a different demographic-spending every minute of their life worrying about their family, some people are finding it difficult to adjust in a routine of spending 24/7 in their house with small compartments and many family members, some of us cannot afford to buy essentials, some of us have lost their jobs and cannot pay the upcoming bills, the crisis has attacked all of us in every way. It is not you and I or just India, Earth is closed. Everybody around the world is suffering. As difficult as the times are, we must focus on coming out of it safely and healthy. Finding entertainment or activities right now is only going to add more days to the lockdown.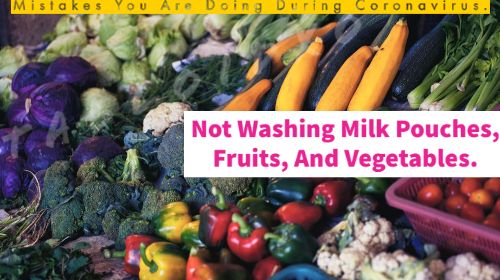 Here are 10 Mistakes you are making during the lockdown, which you should rectify:
1.) Not understanding the brevity of the situation.
If you think it is something that only happens to people in the slums or in some other part of the Earth, nobody is more mistaken than you in the world. For once, we have a tragedy that affects everybody. Celebrities have been tested positive and even politicians. It will come for you as well you do not take this seriously.
2.) Not washing your fruits and vegetables properly.
We consume them on a daily basis. We are wearing a mask, washing our hands, but are we washing our goods properly? The get contaminated as well. COVID-19 can survive on a surface for long as well.
3.) Not sanitizing enough.
If you think you can still go out because "ghar pe dil nahi lagta" wearing a mask and washing your hands, then even sanitizing would not help you. Stay at your home, you want to die? Jump off your building, but do not put anybody else in a difficult situation.
4.) Not understand PM Modi's tasks properly.
Clap from your balconies, not run rallies. Light a Diya from your house, do not burst crackers. Are you an idiot? Do you not understand what is happening?
5.) Not understanding Modi's media.
If you did not understand his tasks, then clearly you do not understand his run media channels as well. Nobody can justify Tablighi Jamat's incident, but let us not forget that Ram Navami celebrations took place as well. What about that? Keep your eyes and brain open.
6.) Believing WhatsApp University.
If today we write a message on Whatsapp and forward it to five hundred people, then those five hundred will forward it to their entire contact list (because clearly nobody has anything better to do these days), it becomes news. But is it? Think again!
7.) Not understanding the responsibility you have.
If at this point you still want to bargain with fruits and vegetable vendors, just think about the fact that you have your savings, they do not even have that. They are coming out on the streets for the same reason. They are not mad to be with their families at this time, but because they are dependent on their daily wages to feed their families. Ten-twenty bucks would not make a difference to you, but put food on their tables.
8.) Not staying home.
Old people want to take a walk in the evening because "saara din ghar pe kya kare". Listen, you have lived your life; please leave the world a fine place for us to spend ours as well. You want to die, your call. Do not put others at risk.
9.) God can wait.
God will understand your absence from temples, pray from your own house. God will co-operate.
10.) Servants/ maids.
If you still have not given an off to your servants/ maids. We hope you know that hell has already booked a seat for you. You are the lowest of all creatures.
Stay aware, Stay safe, Stay home!
...