Shopping online has now become the new normal and when it comes to shopping for kids' products there are times when we can't understand where we can buy clothes for them that are not expensive, have good quality and are trendy.
But with the rise in online shopping, this problem has also been solved. India has a lot of websites where you can buy kids' wear that is not very expensive and have to offer a wide range of products.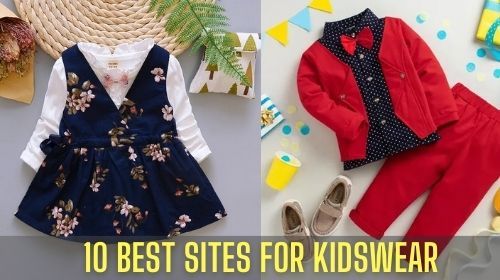 To make your life a little easier, we have put together a list of 10 online shopping for Kidswear websites in India. This will help you find clothes for your kids with the type and price range of clothes you are looking for them in.
1. Hopscotch:
India's largest kid's fashion brand. This online brand has a lot to offer for kids, they have products from playtime to bedtime and have clothes for kids from infancy to childhood. They offer a huge variety of clothing that is comfortable and hand-picked. Their price ranges from Rs.500 to Rs.7000. Along with clothes they also have a wide variety of essentials for kids also available.
2. First Cry:
This online brand is one of the biggest online websites in Asia for buying products for kids. They have got more than 2000 international and Indian brand products available. Their products range from Rs.200 to Rs.5000. They have a lot of things to offer like baby clothes, kid's clothes, footwear, toys and many more.
3. Baby couture:
This brand is the center when it comes to buying clothes for babies, toddlers, and kids. This website has to offer ethnic and weather clothes for kids and along with clothes, it has a lot of accessories also to offer. They also have clothes from special designers like Saka Designs, Tia's Closet, Swanky Me, and many more. Their price range is from between Rs.500 to Rs.5000.
4. Myntra:
The biggest e-commercial fashion store in India now also offers a wide range of Kidswear. Though this website is not only for kids wear but the website has to offer a vast and exclusive range of products for them. They have both local and international brands for boys and girls and have essentials like T-shirts, dresses, bodysuits, and sportswear. Their price range lies between Rs.500 to Rs.8000.
5. Jabong:
Featuring clothes from brands like Peppermint, Tommy Hilfiger, Bella Moda, and many more, this website has an exclusive collection of kids wear for both girls and boys. Along with offering tops, tees, dresses, skirts, sleepwear, party wear, casual polo tees, and many more, they also have footwear available for kids. Their price range is between Rs.500 to Rs.8000.
6. AJIO:
When it comes to buying clothes that are vibrant and are a major fashion statement, then this is your go-to website. Their kid section is divided into 4 sections infants, juniors, girls, and boys. They have their own 12 in-house designer brands like Point Cove, Kidsville, Inf friends, etc. Along with clothes they also offer shoes, accessories, and many more products. Their price range lies between Rs.300 to Rs.3000.
7. Tata CliQ:
This popular online shopping website has a lot of fashion and accessories when it comes to buying Kidswear. Apart from kids wear this site also offers toys, bags, watches, school bags, etc. This website offers kids wear, infant wear, kids' accessories, kids' footwear, and toys. Their price range lies between Rs.500 to Rs.2000.
8. Max Fashion:
Launched in 2004, this website has now become a leading lifestyle and fashion website when it comes to Kidswear. You guys buy trendy products at this website while being on a budget, they offer kids clothing, baby clothes, and footwear. Their price range is Rs.200 to Rs.1500.
9. Greendigo:
This leading fashion brand sells organic, sustainable and ethical clothing for new-born babies for girls and boys up to 12 years.They have an amazing collection when it comes to Kidswear. They offer trendy clothes for kids. They often keep having multiple sales to make the shopping more affordable. They have infant wear; kids wear and footwear available in both western and Indian outfits. Their price range starts from Rs.350.
10.Flipkart:
This one-stop destination for shopping online is what everyone needs. Along with being a leading marketplace for electronics they are also known for their kids to wear products. They have products available like footwear, clothes, toys, diapers, wipes, grooming products for kids, and many more. Their price range starts from Rs.250.
Make your kid style game bigger, and better.
Do check them out for buying not just clothes, but other products for your kids and have them delivered to your home without stepping out.
...