Indian weddings are known to be as the king of the weddings because it is not only about the wedding day, but also about other rituals, and functions that come along with the idea of marriage and FOREIGNERS love to attend our INDIAN weddings because foreigners feel special and enjoy being the part of the Indian wedding festivities.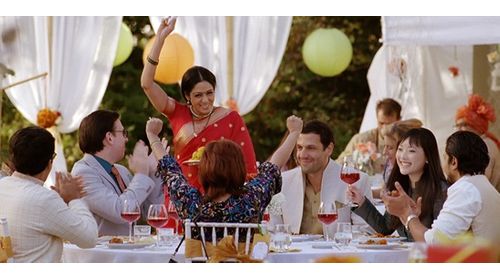 As an Indian, I have noticed the excitement of foreigners to attend an Indian wedding and every time, I think why so? Why they die to come to our wedding and what attracts them? Today, I have come with such answers after questioning many people around me.
Reasons, why foreigners love Indian weddings...
Varieties of cuisines in food:
Our food has magic of making people drooling all over it because of different spices and taste. This is one of the things that attract foreigners towards our traditional weddings.
Dancing moves that make them twist too:
They love dancing on our Bollywood songs because they feel the affection than their usual Hollywood songs. As our songs have tremendous beats that can make anyone twist the booty.
Mesmerizing traditional wedding clothes:
They fall in love with our bright, colorful and of course heavy wedding attires as it attracts them towards its beautiful design work and they die to wear those dead gorgeous ethnic wears at our weddings.
Various pre-wedding functions with different themes:
We all know Indian weddings have never been about only the wedding day. There have been various pre-wedding functions like MEHNDI KI RAAT, SANGEET AND MANY MORE with various color themes. This attracts them and they fall in love with the never-ending celebrations.
The way the groom enters to take his bride away:
They feel stunned when they see a man riding on a horse to take his bride away for a lifetime. They love the idea of being the prince charming and taking her princess away to make her happy forever because such a thing never happens in their country.
Indian rituals:
Indian weddings are also famous for their traditions and rituals. Foreigners love it when people pay more respect to traditions and rituals to make sure that the couple has the happy married life. They feel excited to witness all the rituals and traditions.
Witnessing hundreds of people under one roof:
They enjoy watching hundreds of people gathering together to bless the couple and watching them celebrating the biggest day of their lives by showering them with endless blessings and love.
Decorations:
Indians never think twice before investing their hard-earned money on the decorations to lighten up the functions and foreigners loves the beautiful decorations of flowers and more that makes them excited about being the part of the wedding.
Never-ending celebrations:
Indians have the ability to dance for straight twenty-four hours and more till the wedding ends and foreigners love to watch the crazy dance moves and people enjoying every bit of it. They fall crazily in love with the never-ending functions till the final day.
And, finally the PHERAS:
They fall in love with the beauty of PHERAS and the way two people in love promise to be with each other in thick and thin.
Foreigners, we don't blame you for loving our Indian weddings because they are alluring and we know it too!
...