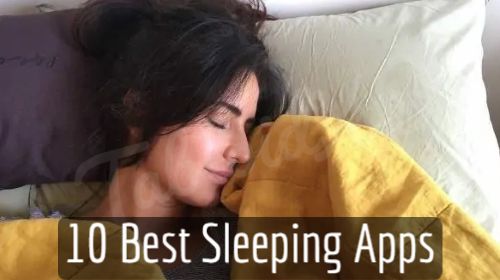 Has your sleep cycle got disturbed in recent times?

After a long, tiring, and exhausting day, the only thing we crave is to doze off to a peaceful sleep. But if you're "dozing off" means watching the ceiling for the next 1 hour, which leads you to use the phone by compromising your eyes to make it weak and through that you beg your mind to sleep, let us tell you, you are doing nothing good but affecting your health.
Well, we know in the fast pace challenging life, most of us are facing that! So, today I promised to help myself and my fellow readers to sleep with best sleeping Apps which will doze off you to sleep in minutes.
Here are the list of some sleep apps you should have to get enough zzz's!!
1. Calm.
Founded by: Michael Acton Smith and Alex Tew.
Products: App, Website, Book.
App Available for Android and IOS devices.
Every night your thoughts like to play "Quiz of Doubts with you" and all you ask is for a silent, calm mind. Meditation is the most realistic way to relax your body and mind before bed to have a better sound sleep. You can easily download it from Play store.

In this app, you will find some stories narrated by "Interstellar actor Matthew McConaughey" who turns out to be an expert of mindfulness.

The soothing music, and guided lessons on soft movements that will relax the body, this app can answer for your anxieties.

Freebie version: The free version will let you access a limited number of soundscapes, timed meditation options, and certain sleep stories.

Premium version: You can unlock the app's entire library of more than 120 sleep stories, hours of guided meditation, master classes and exclusive music tracks, with a monthly or yearly subscription.
2. Noisli.
Founded by: Sabine Staggl, Stefano Merlo.
Products: App, Website.
App Available For Android and IOS devices.
Create Your Own Soundscapes.
When the sounds can be distracting and not letting you sleep, many of us require a perfect environment for a better relaxation or sleep. Noisli helps to remove that sound distraction by providing completely customizable sounds, so you can mix them according to the ambience you want to create.

You can use this app while working also to stay focused with an advanced timer feature that will let you combine the soundscapes with time management techniques.

Isn't it Awesome?

Freebie version: This will only get you access to 16 sounds and 15 hours of streaming a day.

Premium version: You'll get 28 sounds and unlimited streaming, in addition to access to its advanced timer.
3. Slumber.
Founded by: Alexandra Zatarain (VP of Brand & Marketing) and Matteo Franceschetti.
Products: App, Website.
App Available For IOS devices.
Best for Alternative Techniques Like Hypnosis And ASMR
Did you know that the founder of this app is a Husband-Wife duo?

Easy download from play store, only available for Apple devices.

This app of the husband-wife duo offers more typical features like soundscapes and assisted sleep, meditation, which means they offer 'soothing stories' by therapeutic hypnotists like Dan Jones which utilizes suggestive hypnosis techniques to help you fall asleep.

Don't worry, it's not scary!! It's just for your better sleep.

You can adjust the volume of selected soundscapes according to your preferences. The aim is to induce you a deep calm sleep with a combo of story and soundscape.

Freebie version: You'll get 10 slumber free episodes.

Premium version: Subscription will let you access to weekly news stories and meditations, plus other features like its ASMR and breath control guided technique functions.
4. SleepScore.
Founded by: Colin Lawlor.
Products: App, Website.
App Available For Android and IOS devices.
Best For Sleep Accountability.
Many of us are curious and cautious about our sleep cycle. Like some people would like to maintain 6-8 hours of sleep.

SleepScore is the one stop solution for your peeps, it not only helps you to sleep better and relaxed but also improves your sleep, according to your goals, whether it's sleeping for longer, waking up less, or using sleep to sharpen your mind.

The app will use your microphone and speaker to track your sleep by measuring your breathing rate and body movement all night long.

Sounds so Interesting!!

It collects all this information and then presents it to you in easy-to-read-charts. I am definitely going to have an app with me.

Freebie version: The free version of this app offers more features than most other free downloads, including a sleep tracker, a smart alarm clock, your daily 'SleepScore' and up to 7 nights of sleep history.

Premium version: For a fee, you can also get access to sleep advice from sleep experts, sleep challenges aimed at motivating you to improve your sleep and a report you can share with your doctor.

I am totally impressed with this app!!
5. White Noise.
Founded by: Todd Moore. Products: App, Website. App Available For Android and IOS devices.
Do you get easily distracted?

If yes, then download this app right now from Play store.

A collection of sounds which is ideal for people who want to quiet their minds and want dead silence or they need to drown out the sound of loud roommates.

The free version will keep poking you with its ads, which would counteract the work of even the best apps.

So try an upgrade version of this app.

Freebie version: You'll get access to background noise that may help you focus better, but as I already mentioned unwanted ads may be annoying.

Premium version: With the prime version, you can get rid of the ads and receive access to more features, like connecting with Apple TV & Apple Watch support.
6. Sleep Cycle.
Founded by: Maciek Drejak. Products: App, Website. App Available For Android and IOS devices.
All the Sleeping apps, let you sleep better, but this app will help you have a better morning-morning. Instead of programming an alarm, It monitors your Sleep Cycle with sound analysis through your phone and wakes you up during your lightest sleep phase—the time when you'd wake feeling most rested (don't worry, you can still set an approximate time, so you aren't late for work).

Improve sleep quality, and track the cause of your restlessness.

Freebie version: Detail sleep analysis and sleep statistics with its free version, along with integration with Apple Health.

Premium version: Get the info about how the weather affects your sleep, analysis of your long term sleep trends and an ability to take sleep notes that can help provide a deeper analysis of your sleep patterns.
7. Pzizz.
Founded by: Maciek Drejak. Products: App, Website. App Available For Android and IOS devices.
Are you insomniac? Tired of using different ways to get better sleep?

Download Pzizz it uses psychoacoustics (means, the psychological effects of sound) to treat insomnia.

The app also works offline and has more than 100 billion sleep music sequences called "focuscapes" to help you stay alert during the day, and customizable narrations with programmed alarms called dreamscapes to help you sleep and nap.

Freebie version: Access to the 'Classic Pzizz' content and features, which include limited options of its prime features.

Premium version: Access to 100 billion sequences of sounds to sleep, nap and wake up to. The more you use it, the more it personalizes your sleep experience.
8. Relax Melodies.
Founded by: Simon Alex Bérubé. Products: App, Website. App Available For Android and IOS devices.
Choose from various sounds and melodies to customize and mix on Sleep Melodies to lull yourself to sleep, or try Sleep Moves.

Freebie version: Access to a limited number of sleep sounds, the bug is you can't use other apps while using Relax Melodies.

Premium version: Lets you listen to your sleep sound mixes while using other apps give you 124 sounds and melodies you can create your own mix with and offers 5-day programs and life coaching sessions on various subjects.
9. Pillow.
Founded by: Shashank Palli. Products: App, Website. App Available For: IOS devices.
Do you sleep talk? Or Snore? Don't know your friends blame you for that? You know what, Shashank Pillai got it covered for you by making an app that monitors your movements, records you so it can discover if you snore or sleep talking, and track your sleep stages. OMG, that's so amazing!!

You can now easily compare your most recent night's sleep to others to determine what's keeping you up.

You know this app also works with your Apple Watch's accelerometer (it tracks your movement since it's attached to your wrist).

Freebie version: Let you get basic information about your sleeping habits, including how much time you spent in the light, REM (Rapid eye movement) and deep stages of sleep.

Premium version: Lets you record and playback sounds you may have made while sleeping, compares your sleep quality to your other Apple Health metrics and gives you unlimited access to your sleep history.

Androidians you have to wait to access the benefits of this app.
10. Headspace.
Founded by: Andy Puddicombe and Richard Pierson.
Products: App, Website.
App Available For Android and IOS devices.
Create a space in your head, not literally I mean, create a space for more positive and clear thoughts. Headspace creates packages like "sleep casts" which are 45-to-50 minute stories (such as cats at a marina, or descriptions of a stormy night).

Stories not your jam? No problem. Listen to wind down that guides you through falling back asleep and deep breathing, or sleep music instead.

Freebie version: You'll have access to the first 10 Basics sessions, three sessions of 'Everyday Headspace' and the 'Falling Back to Sleep Wind Down' session.

Premium version: You'll have unlimited access to guided meditation exercises for both kids and adults, mental reset sessions, a mindfulness/meditation tracker and the ability to add friends so that you can meditate together, among other features.
"When Sleep is Sound, Health and Happiness Abound". Goodnight!
...