It's a story of a couple who was studying in medical college and was madly in love with each other. When the girl's (Kiara Advani playing Preeti) father spots the couple kissing, he opposes their relationship and decides to marry her off.
The guy (Shahid Kapoor) trapped himself into a spiral of cigarette, drugs, alcohol and rage after his serious relationship with his girlfriend ends. Later, by the end, everything went well and lived together.
The movie Kabir Singh was a massive hit, the movie earned over INR 350 Crores at the box office.
Here are 15 famous dialogues from Kabir Singh:
1. "Tere Liye Kuch Bhi Kar Sakta Hoon Preeti... Agar Tujhmein Bhi Mere Liyai Waisa Pagalpan Hai Na To Call Me Other Wise You Know Me".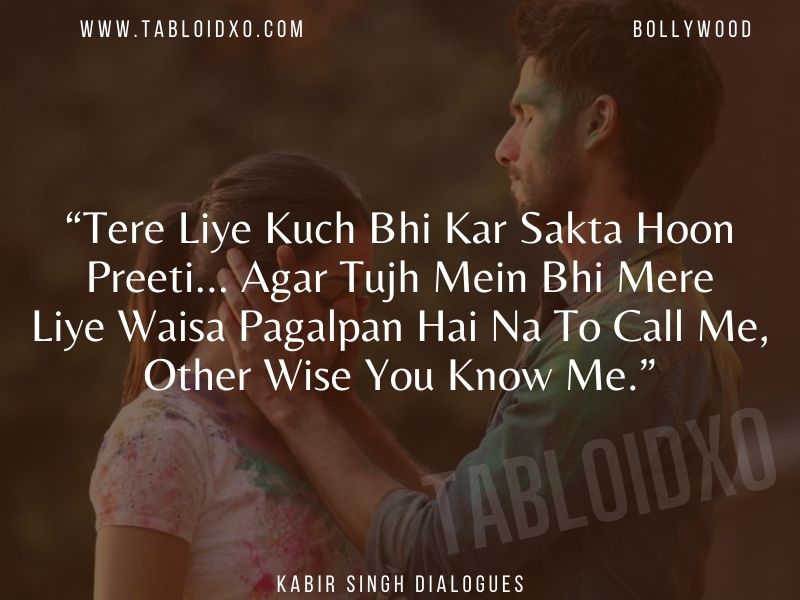 2. Suffering Is Personal. Let Him Suffer.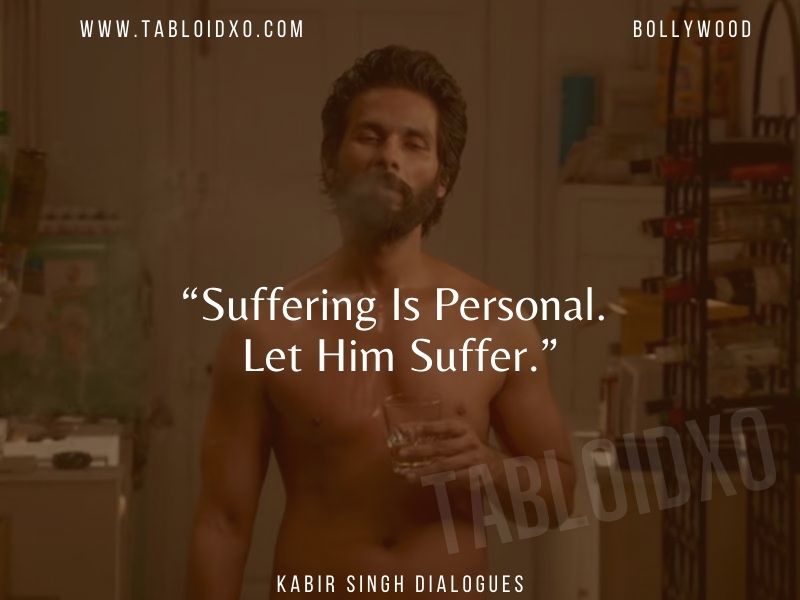 3. "Zindagi Mein Kisi Bhe Cheez Ke Gehrai Tak Pahochoge Na... To Haath Lagega Sirf Zero... Or Tumhara Bhai Zero Ke Bahot Kareeb Hai"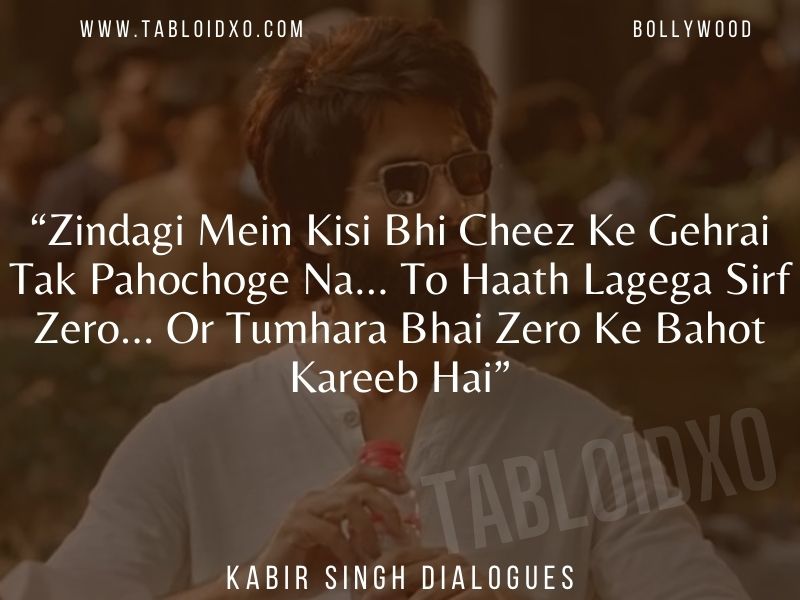 4. Be Khayali Mein Bhe Tera Khayal Aaye.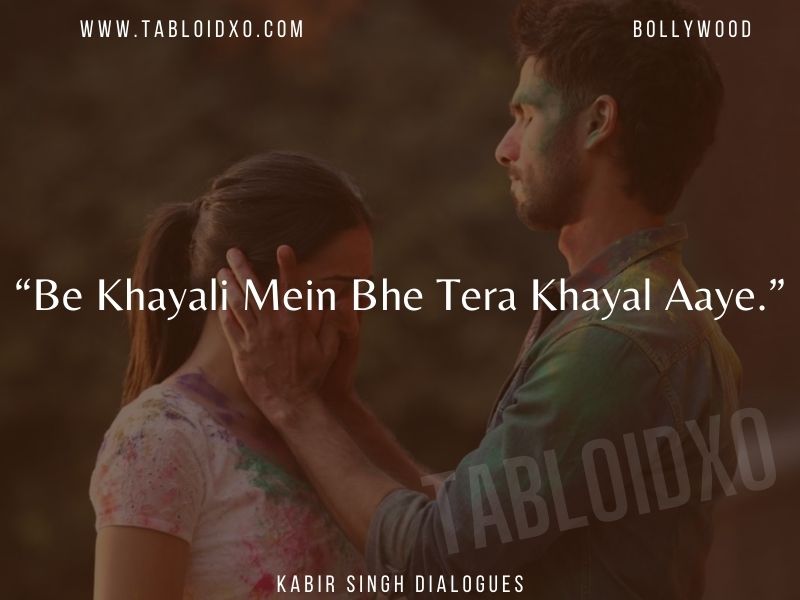 5. "Medical Profession Mein... Jo Insaan Apna Gussa Control Nahe Karsakta Hai Wo Surgical Blade Haath Mein Liyai Ek Murderer Se Ziyada Kuch Nahe Hai".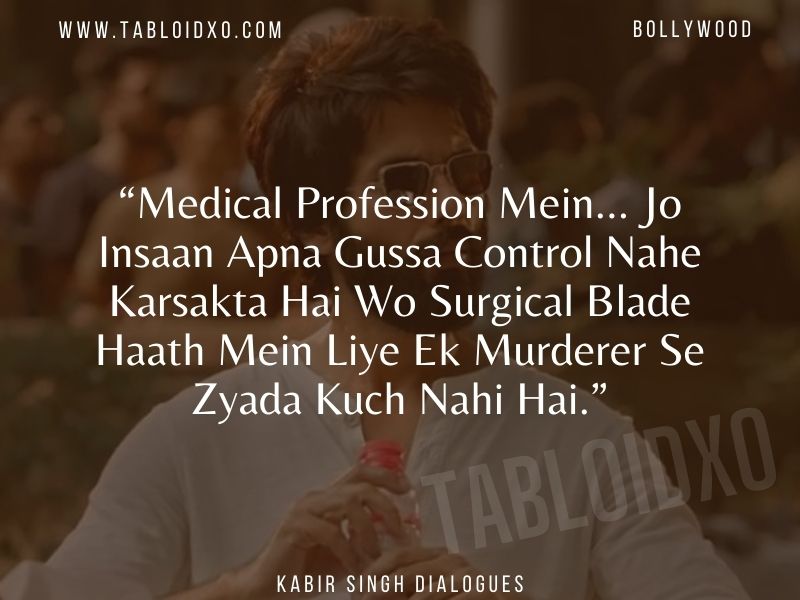 6. When A Woman Is In Love, Her Priorities Change!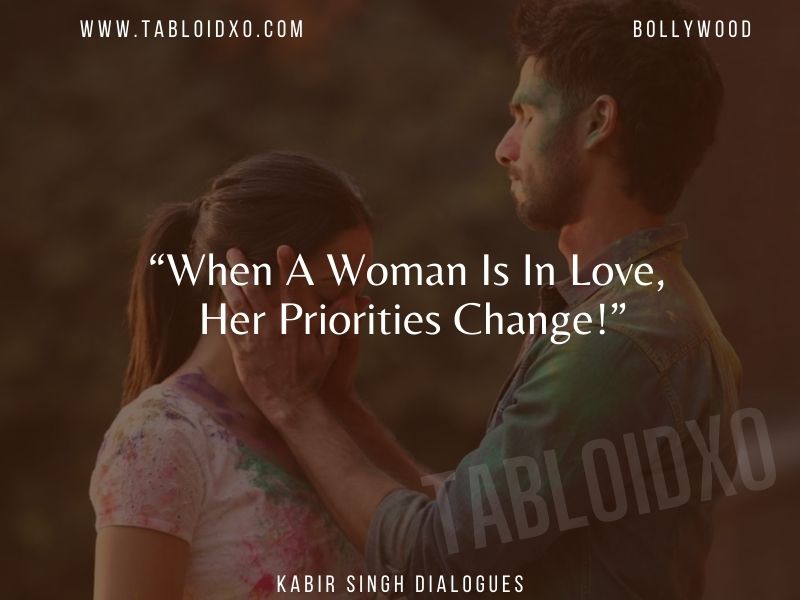 7. Darya Ka Paani, Lehren... Shor Hai Ya Shanti? Jisse Shor Lage Usne Kabhi Pyaar Kiya Hi Nahi...Or Jinhe Ye Khamooshi Choo Jaye Unhe Waqt, Halat, Pareshani Juda Kar Sakti Hai Par Alag Nahi.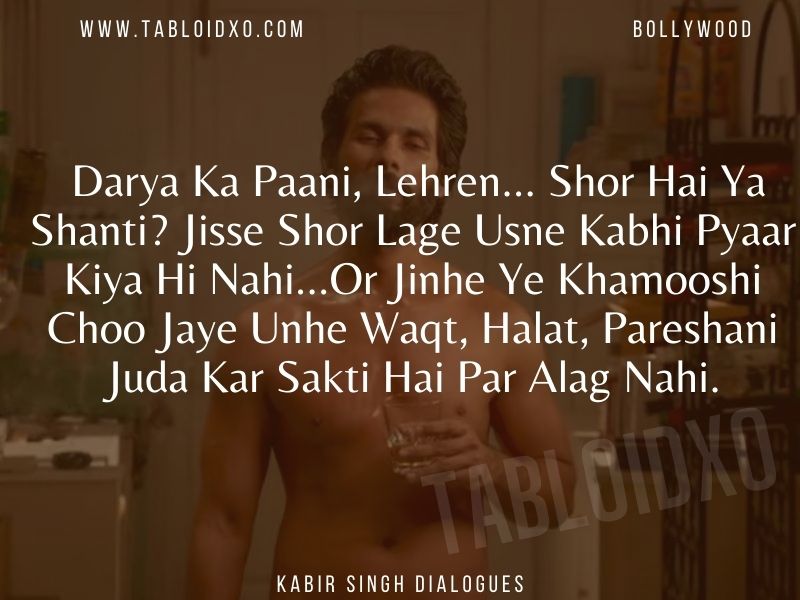 8. Main Chup Nahi Rehsakta, Chup Rehna Ek Aadat Ban Jate Hai, Jo Field Pe He Nahe Life Mein Bhi.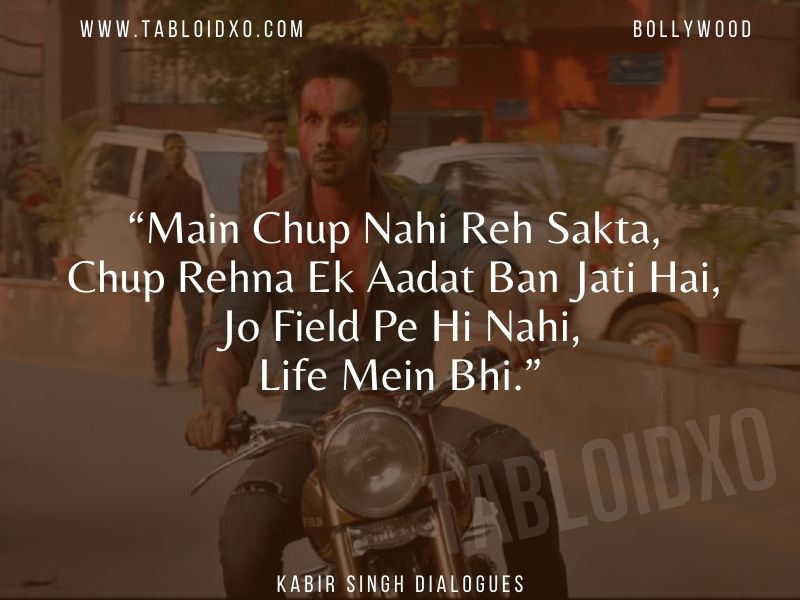 9. Life Mein Paida Hona, Pyaar Karna Aur Mar Jaana... Yeh 10% Moment's Sabse Important Hote Hain... Baaki 90% Are Just Reactions To Them.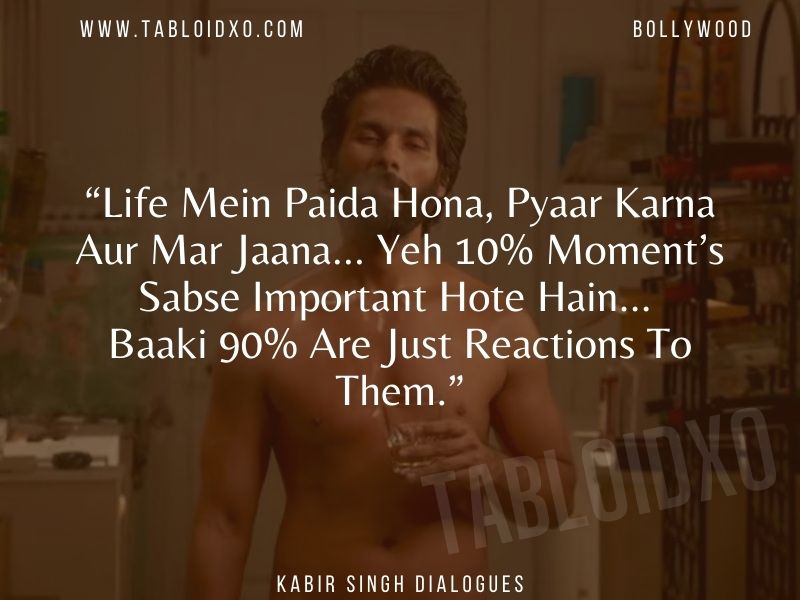 10. "Kaisa Chhichhora Hai Bay... Haan... Daily Daily Nada Dheela Hota Ja Raha Hai Kya."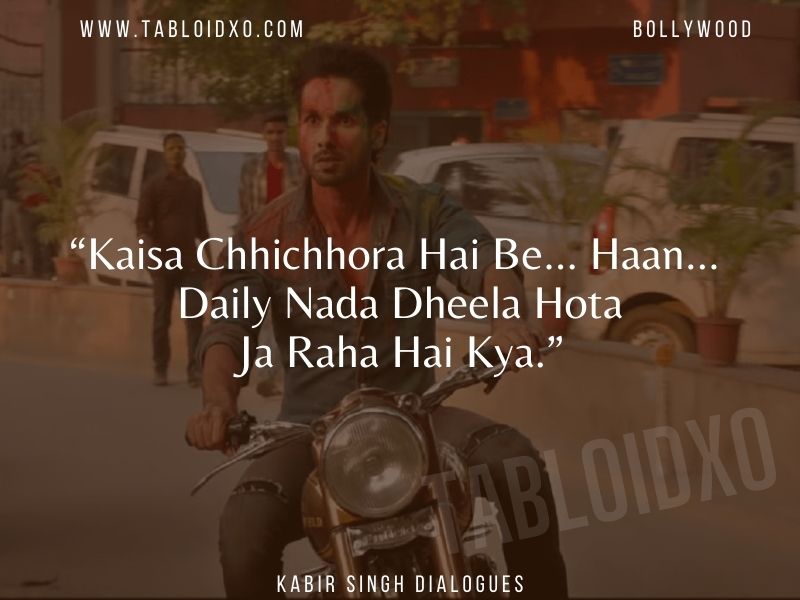 11. "Life Mein Ek Time Aisa Aata Hai Jab Andar Se Ghanti Bajti Hai Tab Band Kar Dai."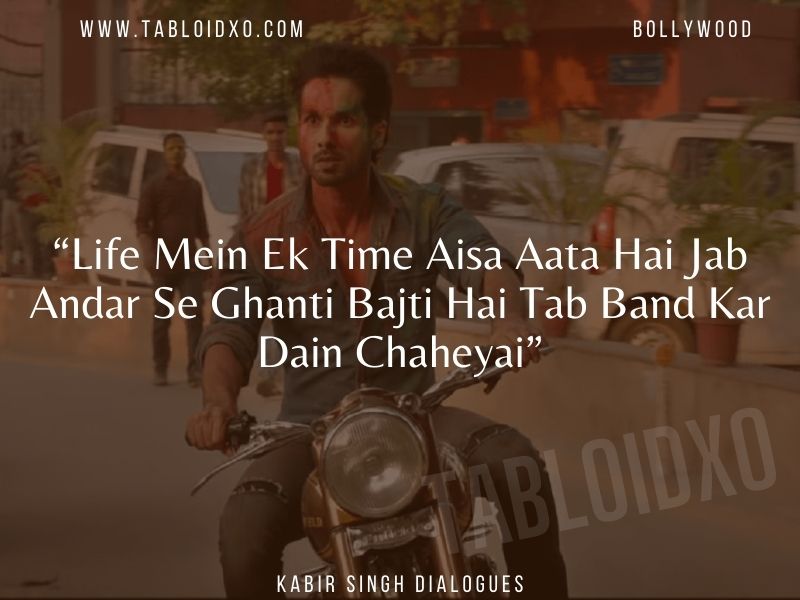 12. I'm Not A Rebel Without A Cause, Sir.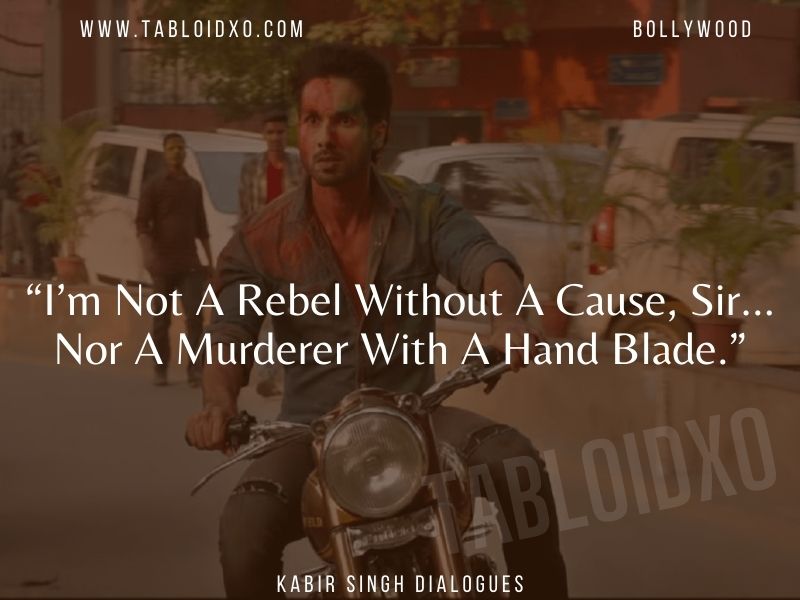 13. "It's Not The Goodbye That Hurts But The Flashbacks That Follow."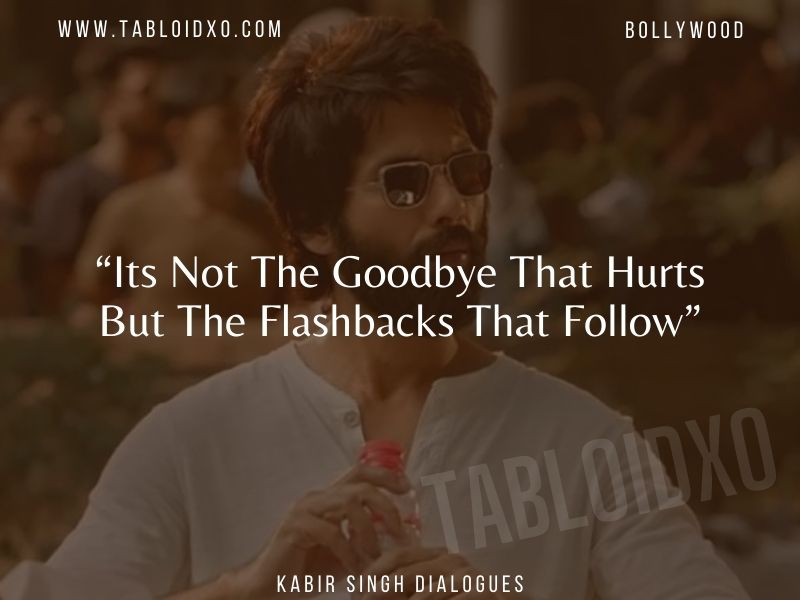 14. "Priti Koi Aisi-vaisi Degree Nahi Hai... This Is MBBS...Vahn Piche Baith Ke Kya Kar Rahi Ho"
15. Football Is A Violent Sport... Opponent Ke Zone Mein Ghuss Ke Gol Karna, Opponent Hamare Zone Mein Ghussai To Use Gol Karne Se Rokna, Mujhe To Ye Sport Samajh Mein Ata Hai Sir.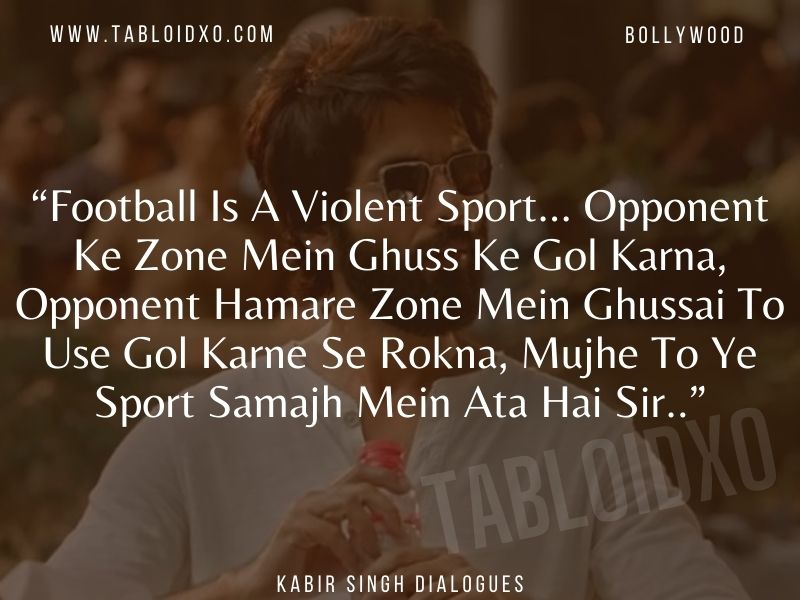 ...