???... What????
Your day starts with 3W(what, when, who) and 1H(How), followed by hundreds of question marks. It's so tough for you to take even a teeny-weeny life decision, you end up panting all that moment. Right from Aj Coffee Mein Kitne Sugar Daalu To Aj Kya Pehnu?? They are so confused minds that they travel like a loafer, However, they know they suck at the decisive part. They are aimless and are chicken-hearted because they get scared while taking their own stand or taking one step further.
If the intro suits your personality, Here are some lists of points which will help you know that your life exists:
1. You are so confused that you can't decide what you should wear for your office today.
2. And these are not your clothes, these are innumerable decisions which will make you late for your office.
3. "Oh I got an idea!! Na na.. I don't think it will work".
If you have said this to yourself ever, Congratulations you really suck at decision making.
4. In all your decisions in life, there will always be a third party(friends, family etc.) involve because you know you can't even ponder to pee without anyone consent.
5. Here comes the heart racing part, when your family members ask you to order food in a restaurant.
6. Shopping time..yayyyy!! Alone... Hello No!!
7. MCQ's in exam?? Zor se bolo Jai Mata Di (God help me)! This is the only possibility you are left with.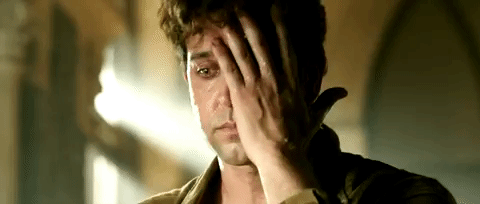 8. Ulta ya seedha?? Acha odd ya eve? Head ya tail??
Confused already?? You have landed yourself in a right place.
9. Buying a gift will never ever be an easy task for you.
Imagine, you can't decide what to wear for your office, how you can expect to choose a gift for anyone else?
10. Mere Wali To Mere Mummy Hi Layengi!!
Now I have the answer why some people say the above-said line. (I am just being sarcastic, please... no offense to anyone.)
11. You have three invites for the wedding and it's a horrible pressure build upon you to which wedding you should go.
12. You insert your destination and Google map suggest you three different routes instead of one.
What will be your choose??
13. Late night TV watching? = YouTube? = Netflix, you were so confused that you ended up sleeping.
14. You are not so sure whether you should say the three magical words to her/him or not.
15. And in case you said, your jaws will drop out of your mouth because you can't even believe that you DID IT!!
16. You had try out thousands of filter to your *Beautiful Photo*, even the wittiest caption is ready to make it to your wall and suddenly you decide, it's not looking great.
Happens every time?? I can understand!!
Should I write more points or are they enough?? Will the boss like it?? So much confusion!!
...