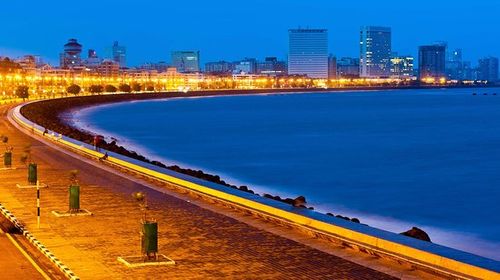 You are bored with your routine already, are you not? Looking for chilling scenes in Mumbai and if you are interested in going out and chilling then you need to continue reading this article.
The City of Dreams has tremendous places for you where you can chill around with your friends and family. If you are a religious person, Mumbai has got religious places for you, If you like to go hiking, Mumbai has hiking places for you, if you are on a low budget but want to travel to Mumbai, Mumbai has got even that for you. What you need to do is, simply pack your bags and dive into the world of dreams which has loads of flavours.
If you are planning to visit these places in times of COVID-19, we recommend you to please wear your masks and gloves and drink water. Here are some extremely great places in Mumbai where you can enjoy your quality time:
1. Haji Ali Dargah.
The entry to which is free of cost, hurry you saved your hundred bucks as well! It is one of the most prominent religious landmarks in Mumbai. The architecture is in Indo-Islamic style. It is a spiritual hub where people visit very often.
2. Visit to Elephanta Caves.
If you are a foreigner or NRI, it is going to cost you more than a hundred but for Indians, the entry ticket is just 10 bucks. It is located off the coast of the Arabian Sea. Declared a world heritage site, it has rock-cut caves.
3. Walk at Marine Drive.
We believe that most Mumbai people do this without anybody telling. It is their thing and their connect with the city. Heard it is very soothing when the weather is pleasant. What's more? It does not cost anything, You saved 100 rupees again.
4. Ferry ride-Gateway of India.
The ticket costs somewhere between 50-120 rupees. Sea, and the sea breeze and a ferry ride with it, sounds romantic does it not? You can sail off to Elephanta Caves from here as well.
5. Witness the wildlife-Sanjay Gandhi National Park.
The entry ticket is 48 rupees, let us round it off and make it a fifty. It was formerly known as Borivali National Park. You can spot leopards, civet cats, sambar, etc here.
6. Sidhivinayak Temple.
Thanks to Ekta Kapoor and Bollywood, even atheists know what this temple is famous for, resurrecting dead husbands and answering all prayers. Best thing? You get peace and it does not even cost anything.
7. Kanheri Caves.
It costs like five bucks for Indians ad rupees 100 for foreigners. This place gives a deeper insight into Buddhism and its scriptures in the initial stages.
8. Jijamata Udyan.
The ticket here is a hundred rupees for a family of four, which makes it 25 for each. It was formerly known as Ranchi Bagh. This sanctuary boasts of colorful and chirpy birds.