Yesterday was Karwa Chauth, all of us know on this day women keep fast for their husband's long and healthy life. Although, there is no rule of thumb. Even men do it as well for their loving wives for their healthy and happening long life.
And in those men's, we know one actor who is setting the goals for us, guys; he is setting remarkable goals for us! Yes, we are talking about Ayushmann Khurrana.
Ayushmann kept fast for his wife Tahira. Recently she underwent a mastectomy procedure after having a breast cancer.
So, as she is in her recovery stage, she has to take care of her health, and being the doting husband, Ayushmann kept the fast on Karva Chauth for her.
He shared a picture of his hand with the alphabet T written in Hindi: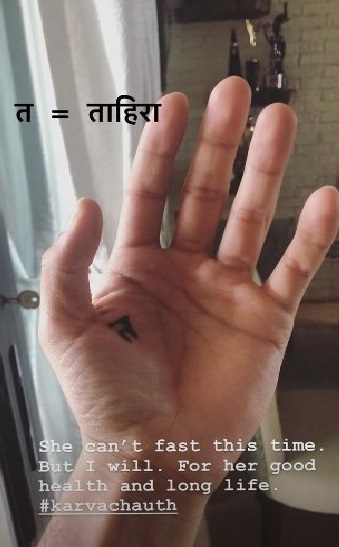 he also shared a cute picture of him with wife Tahira and captionaed it as "Fasting for you is fun."
Every time we think of him, he surprises us with his charm, his caring nature and his loving side towards her wife. Yesterday we witnessed another example of what love and care mean in a relationship.
Wishing Tahira a healthy life ahead and hope she recovers fast and we know she will because she is a warrior.
...