Originally from Kerala, India, Banana chips are a form of snack that is famous all over the world. Available in many different flavors, these chips can be served plain or can be covered with red chilies to make them sour and spicy or can be covered with sugar to make them taste sweet.
These are one such snack that is very difficult to let go of once you start eating them. Banana chips recipe is simple and can be made at home in a jiffy. You can have them anytime during the day, before lunch or dinner.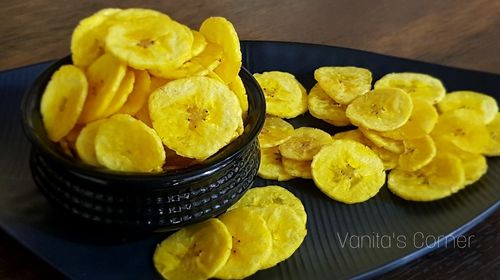 Here are simple steps on how to make Banana Chips at home:
1. Ingredients Required:
2 large raw Bananas

1 teaspoon salt

1/2 teaspoon Turmeric (Haldi)

4 cups of Water

Coconut oil for frying

2. Preparation Time: 5 minutes.

3. Cooking Time: 15 minutes.

4. Total Time to Cook: 20 minutes.





5. How to make Banana Chips:

Take both the large Bananas and feel the skin off of them.
After peeling the bananas slice them with a medium thickness.
After cutting slices of the bananas put them into a large bowl.

Source: depositphotos

After adding the bananas into the large bowl, add 1 teaspoon of salt, 1/2 teaspoon of turmeric (Haldi), and 4 cups of water into the bowl and give all of these ingredients a stir.
Once everything is stirred, drain out the water from the bowl completely.
Take a frying pan and pour coconut oil into it and heat the oil.
Once the oil is heated, pick the slices and deep fry them into the hot oil.

Source: ndtvimg

Fry them for about 10-12 minutes (NOTE: Do check them after every 5 mniutes) till the chips start to turn crisp.
Once they turn crisp take them out in a plate with a kitchen paper spread over the plate.
Your Banana Chips are ready.




6. Mistakes/Problems you might face:

After peeling the raw bananas if they feel sticky rub a little oil onto your hands and slice them, it will make it easier to cut the raw bananas.
Don't forget to add the turmeric into the mixture as it helps in bringing out the yellow color in the chips.
Make sure to drain out all the water otherwise, the chips won't fry properly.
Make sure before frying the raw bananas that that oil has become hot otherwise the chips won't become crisp.
Make sure to take out the chips after 10-12 minutes you only need them to become crisp not turn golden-brown.
Place kitchen paper on the plate before you remove the chips from the oil and place them in the plate as the paper soaks all the extra oil.

Source: hemamagesh
Nutritional Information: These chips contain 374 calories. These 374 calories consisting of 1.6g of Protein, 42g of Carbs, 5.5g of Fiber, 25g of Sugar, 24g of Fat, 21g of Saturated Fat, 8% Potassium, and 11% Vitamin B6.
Banana chips are loved so much that they are packed from India and sent all over the world. They take no time to make and are perfect for your last-minute parties. Do try making them at home and impress your family and friends.
...