We will believe the number of likes that we see on memes and posts on procrastination that you all spend too much time on social media. One of those sponsored posts on Instagram that streamed too much was by Netflix promoting a movie called "Bird box".

So there is Sandra Bullock dictating some conditions and terms to two children and giving a vibe that felt like "Yaar yeh Kuch interesting lag Raha hai" and just like you we also were the shikaar of good trailer trap and fell for this one and watched the movie.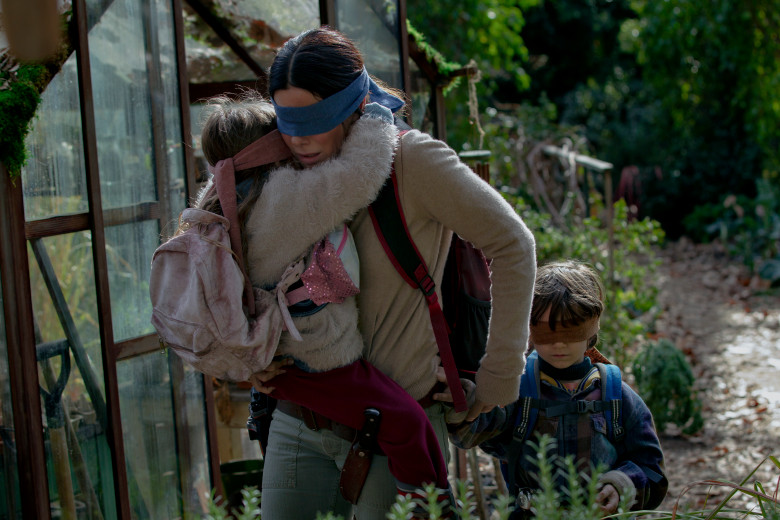 See it was not that we went out and spent money in a director's cut or something but there is way too much content on the internet, Prime and Netflix are exploding with it and when Prime fucks up we are not surprised but when Netflix does it, it kinda hurts man. They are fucking taking 800/- per month and have given us dramas such as Ghoul and Sacred Games and why you disappoint us like this ya?
So Bird box began well, Malorie (Sandra) is a weird person who is pregnant and just goes to the hospital for a routine checkup and shit begins. The concept they introduced is different and catches your undivided attention, now which is something in a scenario when just as we said the internet is exploding with content, you got to value the vitality of a unique writer nowadays. At first, it feels quite vague as to what is happening but after a point start to get a hang of it.
The hang of it hangs for a long time now, multiple characters are introduced, we would not give spoilers directly but after a point, you can predict what is going to happen next and thus it happens. So there is a point where the last of them also are dying but the leads survive, okay this is also fine but this is where the movie should have ended.
One thing that was nice about the movie was that they did not give pointless frames to pregnancy part and giving birth issues as to how they managed because in a situation such as theirs, what other choice do they really have?

So, one like for this one point.
But as the movie trailer shows Sandra and two kids, they are the last of survivors and they manage an utmost impossible situation and make it till the end for a happy beginning but the last one was so overdone that you will begin to cringe, you would want to forward it. If you are not afraid of how long your internet will take to load if you forward the movie then you probably would (hashtagJiohotspotlife).
The thought process they had in mind was intriguing and got them all the traffic they deserved but they lost their viewers somewhere in the middle. The movie should have not been stretched too long or perhaps should have ditched the Ekta Kapoor kind of drama and the children should have been named better than the most cliche' of every ending.
Period.
...