Disclaimer: We never wish to hurt anyone's sentiment through our articles.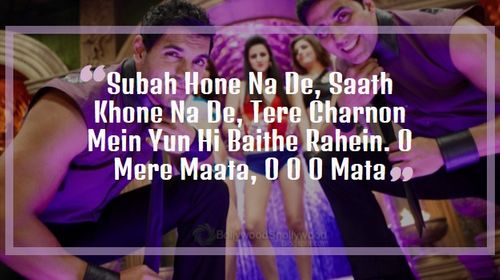 Bollywood movies are famous around the world for something which Hollywood never tries to do in their movies a lot and that is; dance and songs. In Bollywood, songs are the heart of the whole movie and we all believe the belief that people would love to play with the lyrics of these songs with the same background music because why not?
How about bhakti song in Bollywood tune? Maybe you get to listen to the whole new next level full-on entertainment Garba song!
Sounds like a freaking good idea?
But, we are too late, mate, we are planning it here and people have already implemented our ideas, seriously. Since people are celebrating Navratri Pujo with Garba dance on different Garba songs and it seems like Bhakts have made Bollywood spoofs as their new Bhakti Gana. From "Munni Badnam Hui" to "Sheela ki Jawani," many Bollywood songs have inspired singers, lyricist to make Bollywood spoofs.
So bhakto, here are some good Parody bhakti songs which you would love to hear.
1. Maiya Maiya Maiya Re, Maiya Maiya Maiya Re. Shera Waali Ma Hum Pe Upkaar Karo Re.
2. Teri Shakti Apram Paar, Kar De Beda Paar. Sabka Karde Tu Uddhar, Sabse Tujhko Pyaaar. Tere Sharan Mein Aaye Ambe ji...Haan ji.
3. Bhakti Ka Rang Dil Mein Chadha Ke, Maa Ke Charnon Mein Sar Ko Jhuka Ke. Dhyaan Tu Maata Ka Laga Ke, Garba Dance Garba Dance Garba Dance Garba Dance.
4. Shiv Ke Photo Ko...Tunun Tunun Tun...Shiv Ke Photo Ko Seene Se Aj, Chipka Lo Saiyan Fevicol Se.
5. Subah Hone Na De, Saath Khone Na De, Tere Charnon Mein Yun Hi Baithe Rahein. O Mere Maata, O O O Mata, O O O Mata, O O O Mata, O Mere Mata.
6. Yeh Sansaar, Hai Maje Daar, Yeh Sansaar, Hai Maje Daar, Maiya Karegi Beda Paar, Sabkaaaa.
7. Ho Jeevan Ye Maiyya Ko Saunp Diya, Haa Suanp Diyaa, Maiyya Ke Darshan Ko Tarse Jiya.
8. Saari Duniya Bhulaakr, Hoke Bhakti Mein Magan, Mein Naachu Aj Cham Cham Chamm.
9. Jhalak Dikhla Na, Mein Tumh Cham Cham Yaad Karu.
Jai Mata Di, Let's Rock, Roll, Rumble And Do The Jagraata Bhakts!
...