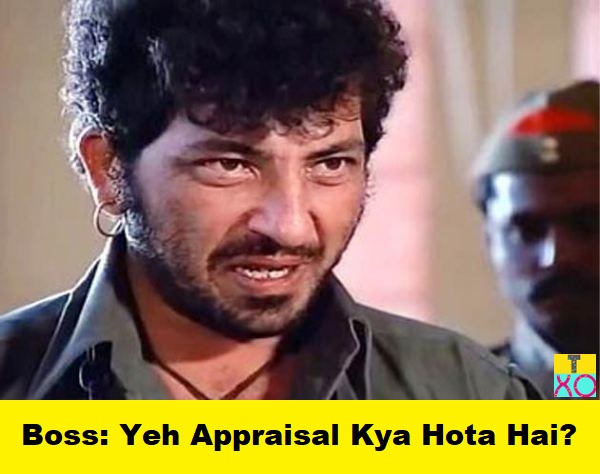 Boss: "I am liking it what you are doing, you just need to work a little more hard else you are doing great".
Me: "Thank you, sir".
Boss: "I was thinking to give a team under you and I will very soon".
Me: "Thank you so much".
My brain: "If he is really liking my work, then team toh theek hai, when will I get an appraisal".
Problem kya hai?
Today I will say that problem, problem yeh hai ki woh boss hai. Aur kya problem hai, kanjoos hona uska janam se adhikaar hai...

Right my darling colleagues? They will appreciate our work, they will give us some kind of authority, but they will never utter the word about the appraisal till we utter that word because they believe in "jab tak chalta hai chala lo".
Respected boss,
If you have a right to be "kanjoos" then I have a right to ask for my right, that is, appraisal because I am working my ass off just to make a good reputation of mine in front of your eyes, I work my best to give you the best performance but still in return I just get praise but no appraisal.

Now, you only tell me, "kaha ki insaafi hai yeh". Where will you take that much of money? "Khali haath aaya tha, ghanta lekar jayega", and that's true, do you getting it, sir?
I have taken all your instructions seriously, even in the middle of the nights when you needed an article on an urgent basis. I gave my sleep for you, which I never gave up for anyone, so now you can imagine how important this job is for me? Can you imagine, I know you can and still I get peanuts in return and you behave as if we have asked for a share in your property? Boss, you need to learn to be giving because haven't you listened to the sentence, "the more you give, the more you will get".
So stop being "kanjoos" and show your "dildaari" not because of me, but because of attracting more money towards you because I know, "you won't do shit for me" maybe you do shit for yourself. I can get it, being selfish is good, but itna??
"Ab Toh Listen To My Pukaar Aur Ban Jaa Dildaar, Give Me An Appraisal Because Banta Hai Yaar!" I Am Fed Up Of Seeing My Bank Balance In 5 Digit Number, Now, I Do Expect It To Be 6 Digits, Don't You Think?
Now, I hope you, (yes, you my boss) won't pretend to be the TUSSHAR KAPOOR from GOLMAAL (Ayye ee oo aa! Ayye).
From,
Every employee, from every corner.
...