Ohh god what a wedding that was.
No we have not been there, neither were we invited but past three days were my best days of this year, after all, it's THE Ranveer and Deepika marriage man!!
The only word which is revolving around me when I ponder my thoughts about them is: HAPPY.
More was the excitement when I heard of them getting hitched and even more, when there was no picture of Deepveer wedding for 2 days, by god!
But, when the 2 photos were released by our loving couple, I was literally tickled pink and one thing which I noticed was, Ranveer was saying something to our bhabhi Deepika, but WHAT??

So we got our mind work on his thoughts and came up with some hilarious laughs which you would too: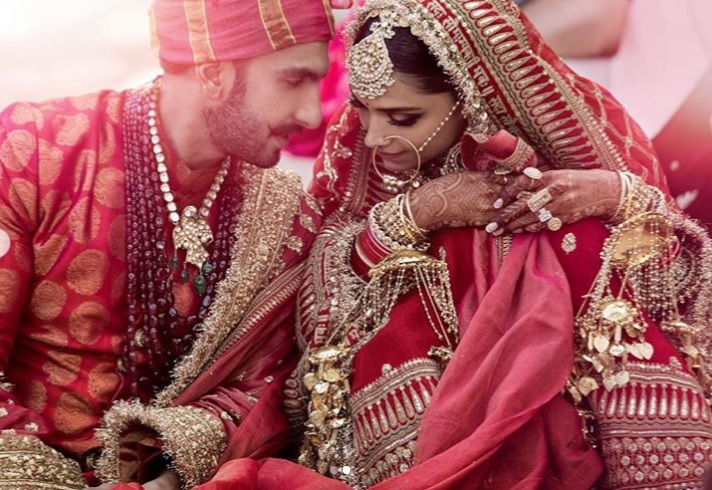 1. Deepu, you know what? This time I think you are looking more beautiful in lehenga!
2. Mera dupatta tumhaare lehenge se zyada heavy hai!
3. Are yeh to wohi wala lehenga hai na jo meine try kiya tha but tumne mana kar diya tha?
4. "My name is Lakhan pe dance kaisa laga mera?"
5. Jo Choode pe Sneakers pehne the kurte ke saath, ache the na?
6. Yar masti masti mein to dhyaan nahi diya, Shaadi pe kuch zyaada kharcha nahi kar diya?
7. Ab next time lehenga mein pehanunga!
8. Deepu, Reception bhi to hai, Karan ko bolu apna rainbow color ka kurta dedega mujhe uss din?
9. Humaare bacho ki bhi shaadi yahi karwayenge!
10. Bajiraao Ne Mastani Se Mohobbat Ki Hai, Aiyaashi Nahi!
11. We are everywhere Deepu, and you know what's the fun part? "Humari photo abhi tak release nahi kari media mein meine. Dekha mere dhaai kilo ka dimaag!"
12. Kya Bolti ho? Kar dein ab release ya ruke?
13. Acha yeh batao, Ranbir ko to invite nahi kiya tha na aj ke function mein?
14. Warna DJ wale ko boldu ki Channa Mereya song play nahi karega!
15. Anisha Ko Kaho Jo Jutte Usne Chupaye Hai Wo Jutte Le Aaye, Wo Mere Nahi Hai Karan Ke Hai.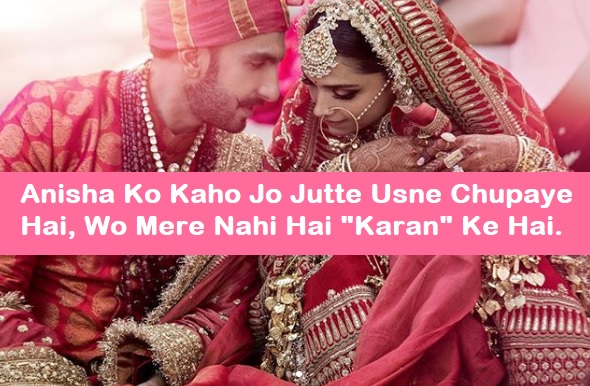 16. Warna mein tumhaari pehenke ajaunga.
17. Vidaai ke time you will cry? Or should I? Ek kaam karte hai, dono roye?
18. Pandit ji ko bolein ki jaldi jaldi karo puja, ab nahi ruka ja raha?
19. Room mein jaatein hi sabse pehle gifts kholenge!
20. I love you Deepika, I really do!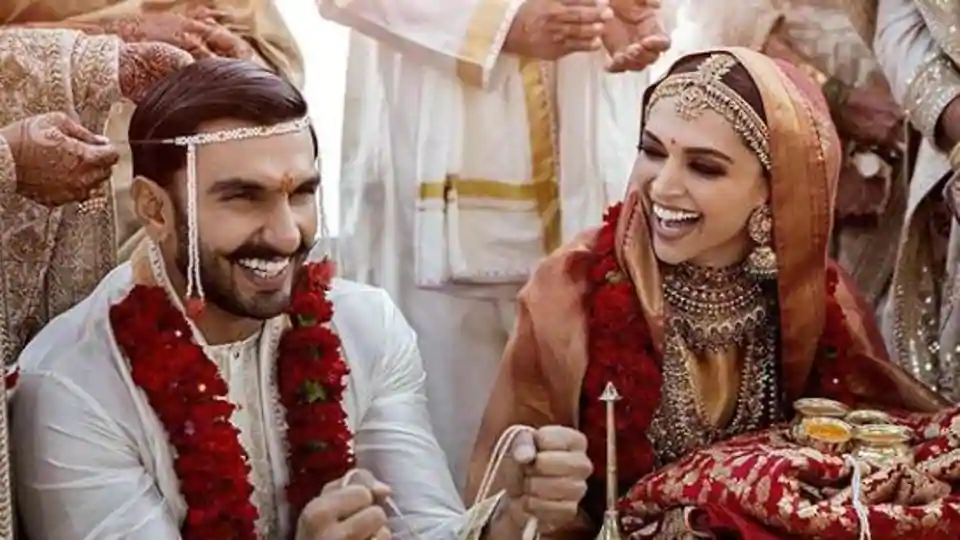 We love you both Ranveer and Deepika...God bless you both!
...