With some twist and turns, Bigg Boss seems to be interested in shifting the immunity stone from Rubina to other contestants. Bigg Boss gave a task where, to win the immunity and the privileges attached with immunity stone the participants have to reveal some of their deepest secrets on national television.
All the contestants' secrets are going to be shocking for the audiences.
Eijaz Khan revealed his dark secret from his childhood. He reveals that he has a problem with people touching him as he had been in an unpleasant situation back then. While revealing the secret he breaks down.
Later, as he steps out of the confession room, Kavita Kaushik hearts get melted and she got emotional too. She asks him if she can hug him and they both sort their differences by a hug.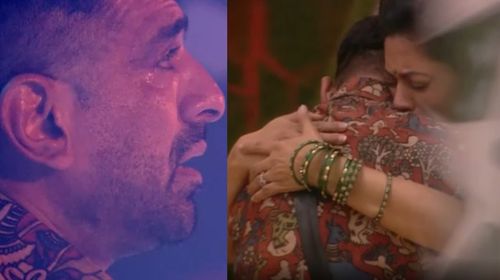 Wherein, Jasmin Bhasin too was seen crying during her revelation. Before going to reveal the secret, Jasmin was seen with her best friend Aly Goni, she asked him whether he will stop liking her or leave her after knowing her dark secret?
Rubina Dilaik reveals about her rough marriage life with Abhinav Shukla. Moreover, she told the world that they both were going to get divorced in November 2020. The couple had tied the knot in 2018.
Rubina says: "One of the main reasons why we decided to be a part of Bigg Boss 14 was to save our marriage. We had decided to give each other time till November and if the differences persisted, we said we would head for a divorce. If we wouldn't have come together on this show, we might not have even been together till now".
You can watch Bigg Boss 14 dark secret task promo below:
Really their fans are going to take a sigh of relief now after so many heated arguments between them.
...