Every day we struggle to do multiple works at one time. Cooking food at office hours is not possible, either you can work or quiet your tummy with delicious food, both the things can't be done at one time. But a Twitter user Mia proved all of us wrong.
A Twitter user Mia shared an unexpected use of a laptop charger where she baked a cookie on her laptop power adapter while at work. She cooked a choco chip cookie by placing cookie dough on the overheated charger.
Mia put together a 'before and after' photo of the cookie. In the first image it shows cookie dough lump which is placed on the charger and the second photo shows the baked cookie which is fluffy and turned big.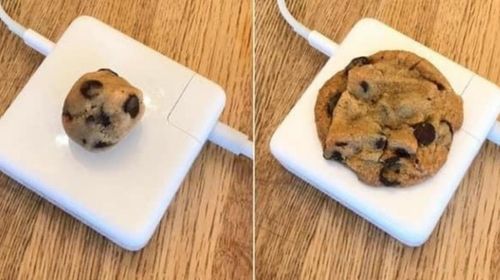 Well, it's an additional feature given by Apple. Now let's just hope they will not raise the prices of their products.
On seeing this experiment, several Twitteratis said that they want to try this experiment with different food products. Some wanted to try with an egg, and some wants to eat a toast.
Some users even said they had been using the chargers as a heating pad for period cramps and a leg warmer during winters!
The cookie definitely caught the attention of the people as it got over 4 lakh likes and 38000 retweets in just 6 days from the day of uploading.
Mia showed the world how multi-tasking can be done and powerful it can be to use a charger for several long hours.
Now, you will be trying it with your charger, we know!
...