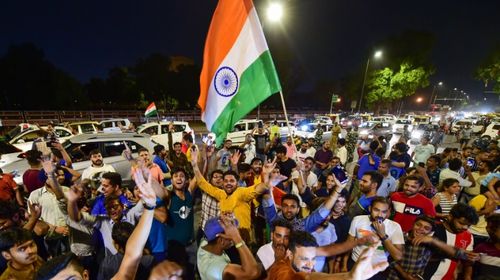 The happiness of every Indian after yesterday's match is countless. You must have seen all the emotions around you yesterday; some happy faces, some were in tears of joy, and N numbers of emotions were flying in the sky.

People erupted over the streets of India to celebrate the victory together...and we can see so much love!
Without making you all emotional again, let's check out some amazing fans, how they celebrated it. (NOTE: DO *CONTROL Yourself*, as you must be in your office right now.
The kid felt brilliant after India won, and we feel the same cute little girl.
Indian fans turns UK streets to Indian streets after Team India's historic win over Pakistan.
Not just only UK streets, India Gate was lit a 1 AM.
And... another one!
It looks, the whole Maharashtra was partying all night man!
Dilwalo-ki-Dilli was all suited and booted for the celebrations.
It looks, Father's Day went awesome.
Celebrating India's victory yesterday in the mumbai screening...
I am sure you got goosebumps!
...