It looks Bollywood stars life is all lit up with no struggles, no bullies and everything is just so fantastic.
Actually, it's true, but don't forget, name, fame, and trolls come all together.
Recently, Karan Deol opens up about his school days where he was bullied by his seniors, and as well as from his teachers for being Sunny Deol's son. While promoting his debut movie Pal Pal Dil Ke Paas, Karan Deol talks about his hardships as a star kid.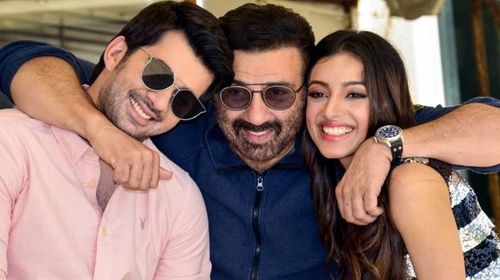 He reminds of some incidents which shook him emotionally:
"The first memory I have of school was when, in first grade, we had a sports competition and I was taking part in a race. I was standing there, when suddenly a few older boys surrounded me. One of them lifted me and, in front of everyone, smacked me down. He then asked me, 'Are you sure you're Sunny Deol's son? You can't even fight back'. I was so embarrassed."
To make him strong in such heart-rending situations, it was his mother who stood by his side and became his strength.
My mom was my only support through all of this, she'd keep telling me, 'they're saying these things because that's how they are as people, it says nothing about you.
A talent competition was the turning point of his life. It was at this moment Karan Deol proved everyone that he has his identity,
"I think my turning point was when my school was hosting a talent competition, and I decided to take part. I realized that this was a chance to prove myself. I spent night after night preparing a rap - because that's the only thing I knew I was good at. On the day, I remember walking up on that stage, and there was a sea of people, with all eyes on me. But I took a deep breath and performed my heart out.

ll the years of being bullied, ridiculed, and of being identified as nothing but 'Sunny Deol's son', came out when I was up on that stage. The audience thoroughly enjoyed - and roared along, too. I felt liberated as if I had finally broken free from the shackles. It took time, but that moment changed my life."
His debut movie Pal Pal Dil Ke Paas is set to release on September 20 and the movie is directed and produced by Sunny Deol. Karan will be seen alongside Sahher Bammba.
In the end, he got some great words to motivate everyone who felt bullied in any quarter of their lives:
"It doesn't take people and situations to make your life better. It takes a strong belief in yourself, the power to see yourself for who you are, and not the way others want you to be."
Check out Karan Deol interview below:
...