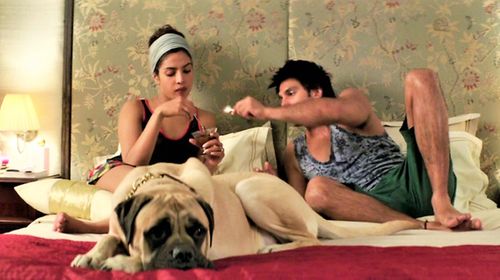 Dear bro,
You have been the most notorious of the lot as if God cast you out to entertain people on Earth with your witty sense of humour, now that's one thing I like about you in comparison to the million things I absolutely hate.

We have had an on-off relationship because maybe we didn't connect a lot back earlier, but whatever it was, I always cared for you like any sister would for their little brother. We have had unexplainable fights, gone through phases of anger control for each other, fought with brooms and knives, as dangerous as it could get, we have cried to mom, threatened each other and etc. But we've grown out of it. Or I think so.
What I have found quite amusing though recently is that we somehow understand each other and seek each other's help without quite expressing much and that's new.
Wow!!
I have to say, you've sometimes messed up because of your anger but you've sometimes understood things in ways nobody thought you would. You were always this fun guy who took things with a pinch of salt, though people mistook it with not taking seriously. Today, while the whole family, including me underestimated you for your result, you've shown us what you can do by passing as a brilliant child in the family. Nobody would have thought. But now I know, you'll always make us proud, even more than me. And I have got your back on it.
I remember when you couldn't be all serious, so you'd just show something very little and be awkward about it. I knew you were less expressive, so I used to pick on those small quiet gestures of yours. Have to say, you're too cute that way. I never really looked through you, what you had been through and I'm late, but it's never too late to say that "I'm proud of what you have become and I love you, brother."
From making me cry to death and picking ugly fights with me and playing the good cop-bad cop with mother to making me smile through your gifts or small gestures, you have been the sole reason of my ultimate realization towards you and now I understand you much better, I love you to the moon and back.
Thanks for saving my ass and saving yours too! That was selfish, but never mind, I'll balance it out the next time!
Yours,
All-time, cute sis. (Yeah, you are lucky to have me.)
...