I expect that you all have been playing PLAYERUNKNOWN'S BATTLEGROUND or PUBG for a long time and none of you living under a rock.

This game has been one of the greatest games ever made (at least for me). It has been the eye candy for all the gamers in the world, including Indian gamers too. From now, Indian gamers have found another reason to love this game, and no it is not because of it's thrilling action, smart guns or plotline, it is because people have spotted our Indian brand in it and it's Mahindra tractors who has excited the Indian gamers.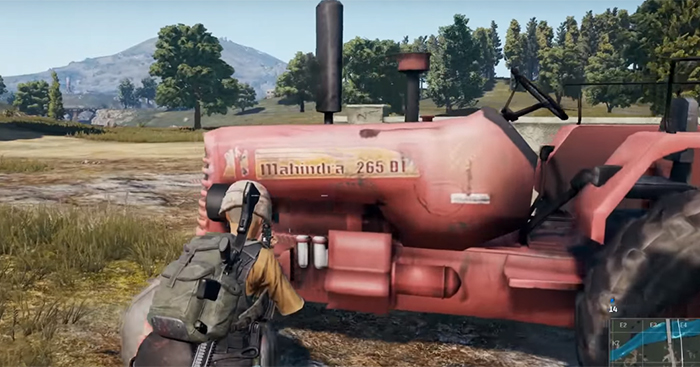 The picture emanated when it was spotted on the YouTuber ChocoTaco's gaming video channel.
When Anand Mahindra got to know about his tractors featuring in the PUBG game, he was clueless but was also pleased to see in it. Here's what he Tweeted:
Now, people who are playing this game and have not spotted our Mahindra tractors, don't worry, keep playing the game, you will get to see it soon. And if you are eager to see it right now so, there have been several reports of the Mahindra tractor being spotted in Miramar map in PUBG, go and believe it from your eyes on this map.
Netizens were excited and couldn't control their excitement:
The only regret gamers must be feeling is, "why can't I drive this beast??"
PUBG you need to update this feature, Request from a true gamer!!
...