Internet is a lovely place! You will find out many funny happenings which are going around you. We remember JCB memes, and now, let's welcome another meme which is making netizens crazy,
It is 'Mature bag'.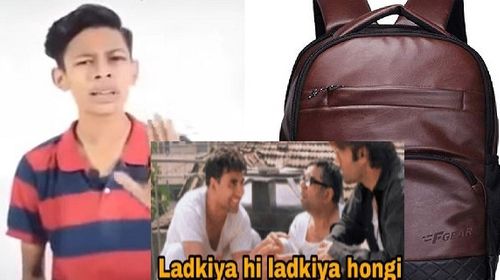 A video of a kid went viral where he explains how you can look attractive in college and since his coolness in the video went viral, people on the internet started their homework, i.e. to make memes.
The guy explains that one should carry a "mature bag" instead of that old style school bag which most students take to college. He recommends a leather bag from Amazon to look and to stand out different from others.
"Point to hai, but why only bag?"
After making Mature Bags viral, one user even suggested Amazon seller to increase the rate of the bag.
Check out more of such memes from cool netizens "Mature Bag":
Surprisingly, Western Railways too got involved in this meme and shared a message to commuters who travel by train.
Wanna buy? You MAY look cool!
Disclaimer: TabloidXO Cool And Attractive Lagane Ki Koi Guarantee Nahi Leta Hai. :-P
...