We know Mumbai police Twitter handle as an information sharer; it is also a safe account cum place where whoever is in trouble from Maharashtra can contact them directly for help.
Other than being a safeguard, the Mumbai police Twitter account is also famous for its witty posts and replies at the same time.
On 31 December 2020, Mumbai police advised Mumbaikars to stay home on New Year's Eve during the night curfew as a COVID-19 precaution. All this was done to maintain social distancing norms.
The tweet got a lot of retweets, replies and funny comments on the post. People appreciated the wit in the post and some asked some hilarious questions in regard to the post.
In one of the quirky replies, one user asked: "What if I reach her place by 11pm and stay there overnight?"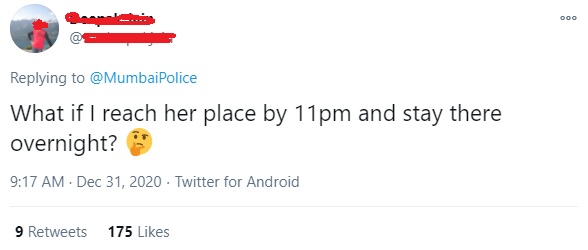 With his funny comment, Mumbai police didn't take much to respond in his own language (which is full of laughter), they replied:
Applauding to the police response, here's how people reacted:
First day of New Year 2021 went off with the good laughter though. Thanks Mumbai police!
...