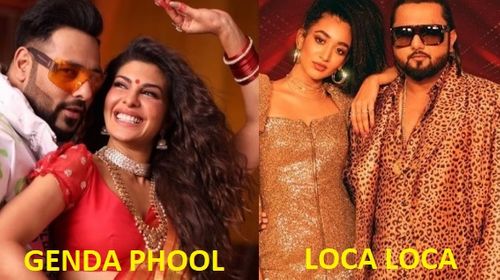 Not having anything to do at home or at the office? Tired of listening to your best-loved soundtracks or the list 2023 Hindi songs?
The workout is getting boring?
Cheer up guys; we got it covered for you. We won't let your ears bleed with your old collection. Let me be your DJ today and add a few latest numbers to your everyday boring Bollywood mashup.
Here are 15 new Hindi songs of 2023 which you should not miss to listen:
1. Masakali 2.0 | A.R. Rahman | Sidharth Malhotra,Tara Sutaria | Tulsi K, Sachet T | Tanishk B.
I must say few remakes are so exciting, instinctively you will shake a leg on them, Masakali 2.0 is one of them. Tanishk Bagchi's recreation and Prasoon Joshi's lyrics added magic to the remake, with a warm and soulful voice of Sachet Tandon and Tulsi Kumar makes us groovy and top of the spicy chemistry of one of the hottest Bollywood actors
Siddharth Malhotra and Tara Sutaria leave us awe-struck with it.
2. Haan Main Galat - Love Aaj Kal | Kartik, Sara | Pritam | Arijit Singh | Shashwat.
The song started with a Bindass rocking attitude of Kartik's and Sara's style. Irshad Kamil has written these lyrics to the frame of mind of Gen Z (Generation Alpha). The fantastic music by Pritam Da and our generation's most favourite singer Arijit Singh with Sashwat Singh, enchanted it. I must say Sara has done justice to her dad's song.
3. Garmi Song | Street Dancer 3D | Varun D, Nora F, Shraddha K, Badshah, Neha K | Remo D | T-Series.
Once again Nora Fatehi has left us speechless with her marvelous dance, I could see this song on repeat mode, a perfect song to workout just right now. Baadshah's addiction to the lyrics and his rap has charm. With the Stunning voice by Neha Kakkar.
4. Fotty Seven feat Badshah | Boht Tej | Latest Rap Song 2023.
Badshah is back again to pump our energy levels with his new rap "Forty-seven" also introducing new hip hop artist "Kaleshi Launde". Seriously, folks, this rap can make your workout even better.
5. Baaghi 3: BHANKAS | Tiger S, Shraddha K | Bappi Lahiri,Dev Negi,Jonita Gandhi | Tanishk Bagchi.
Listening to happy funky numbers/songs improves our level of dopamine (let say baby of our mind) who only gets excited if something is interesting, remaking of this retro song which was written by Indeevar, recreated by Tanishk Bagchi and beautifully sung by Bappi Lahiri, Dev Negi, and Jonita Gandhi. Love the wondrous duo of Sharadha Kapoor and Tiger Shroff's cuteness.
6. Badshah - Genda Phool | JacquelineFernandez | Payal Dev | Official Music Video 2023 .
This smooth, groovy number which gives calmness to the mind after a tiring workout. Helping us to just enjoy the amazing music by Aditya Dev, sung by Payal Dev with "It's our boy Baadashah's words and the flavorsome of stunning Jacqueline Fernandez.
7. GOA WALE BEACH - Tony Kakkar & Neha Kakkar | Aditya Narayan | Kat | Anshul Garg | Latest Hindi Song 2023.
The Kakkar duo of Sis & Bro is back with another soft spinny song, to relax and enjoy your evening with it. As always, amazing music and lyrics by Tony Kakkar starring Aditya Narayan with the love of his life and our selfie queen Neha Kakkar.
8. Muqabla - Street Dancer 3D |A.R. Rahman, Prabhudeva, Varun D, Shraddha K, Tanishk B, Yash ,Parampara .
This song knows slowly increase your dopamine level (your brain's baby) because, dude its Prabhu Deva, the god of dance, with Shraddha Kapoor and Tanishk Bagchi's recreation of this retro song again did justice, by giving such enthusiastic to the words with Shabbir Ahmed, also singers Yash Narvekar, Parampar Thakur did a great job.
9. Pyaar Tenu Karda Gabru | Shubh Mangal Zyada Saavdhan | Ayushmann K Jeetu |Yo Yo Honey SinghTanishk B.
Recreating one of the popular songs of Honey Singh and J-star. Ayushmann Khurrana with his cute moves with Jitu K (Jitender Kumar). Adding to the list of Tanishk Bagchi's recreation list definitely swayed our evenings. Written by Vaayu with the fun-loving voice by Romy.
10. Sauda Khara Khara - Good Newwz | Akshay,Kareena,Diljit,Kiara| Sukhbir, Dhvani|Lijo,Dj Chetas| Kumaar.
With the entry of good news of Akshay Kumar, Kareena Kapoor, Kiara Advani and recreating Sukhbir's song by the cutest Sardar in the industry, yes Diljit Dosanjh, with him Sukhbir, Dhvani Bhanushali added the power in the song. Lyrics by Kumaar and music by Lijo George - Dj Chetas & Sukhbir.
11. Yo Yo Honey Singh : LOCA (Official Video) | Bhushan Kumar | New Song 2023 | T-Series.
No wonder, Honey Singh's era will remain as it is, he always comes with a bang. Another house party track, which is yes yes to your cassette, Lyrics by Lil Golu, with Yo-Yo Honey Singh also adds his music and voice to this fun number.
12. ILLEGAL WEAPON | GARRY SANDHU /JASMINE SANDLAS | INTENSE |FRESH MEDIA RECORDS.
Tanishk Bagchi's list is growing and growing, indeed he does magic in recreation, It is a trouble-free, funky song of Shraddha Kapoor, Varun Dhawan. It is sung by Jasmine Sandlas, Garry Sandhu and lyrics by Priya Saraiya.
13. Kehndi Haan Kehndi Naa - Sukriti & Prakriti Kakar | Arjun B | Siddhant K | Rishabh K | VYRLOriginals.
Another duo of Kakkar sisters has stepped foot into the industry. Yes, Sukriti & Prakriti Kakar are beautiful songs sung by them and starring Arjun Bijlani, and Siddhant Kaushal is giving words to this free-spirited song.
14. Laadki - Angrezi Medium | Irrfan, Kareena, Radhika | Rekha Bhardwaj, Sachin-Jigar | 13 March.
As the night approaches after free-spirited songs our baby brain craves for a soulful number which lets us lead our mind towards serene. For me this song always works, the beautiful and mesmerizing number from the movie Angrezi medium "Teri Laadki Mein" with Kareena and sung by Rekha Bhardwaj, Sachin-Jigar, lyrics by Priya Saraiya.
15. Mehrama - Love Aaj Kal | Kartik | Sara | Pritam | Darshan Raval | Antara .
Another composition by Pritam Da, from the cute duo of Kartik-Sara, indeed this song feels like for broken hearts, but the words are so soothing, pleasing my brain baby and falling it asleep. Sung by Darshan Raval & Antara Mitra.
Yes, you can definitely try them in your daily routine!
Let your day be peppery, trippy and undisturbed!!
...