In the world of Tinder, Happn there is an app which has its base in India; the app was released on 24th August. This new app will help you to 'rent a boyfriend' to 'cure depression'.
The 29-year-old Kaushal Prakash founded this app; he hopes to eliminate depression in India by providing everyone with rental boyfriends.
The app consists of shirtless pictures of men showcasing their fine muscular body and while the entrepreneur said in an interview that all the meetings will be absolutely 'platonic', there won't be any sexual relations or private meetings.
This concept he chooses because Prakash's claims to be a victim of depression and through his own experience, he planned to make an app which will help people to overcome depression.
The app also has a toll free number where people can call up 'professionals psychiatrists' where they can share about their personal issues which is disturbing them over the phone call because in India, visiting a psychiatrist invites some kind of awkwardness of "log kya kahenge".
Watch his interview on what he has to say about his venture.
The men who will be hired for the job do not need to have a graduate or post graduate degree, anyone who is 10th or 12th standard pass out and are selected on the basis of looks and communication skills after an audition. They have 3 categories of bf's.
After the selection, a background check wil be done on the men for criminal records.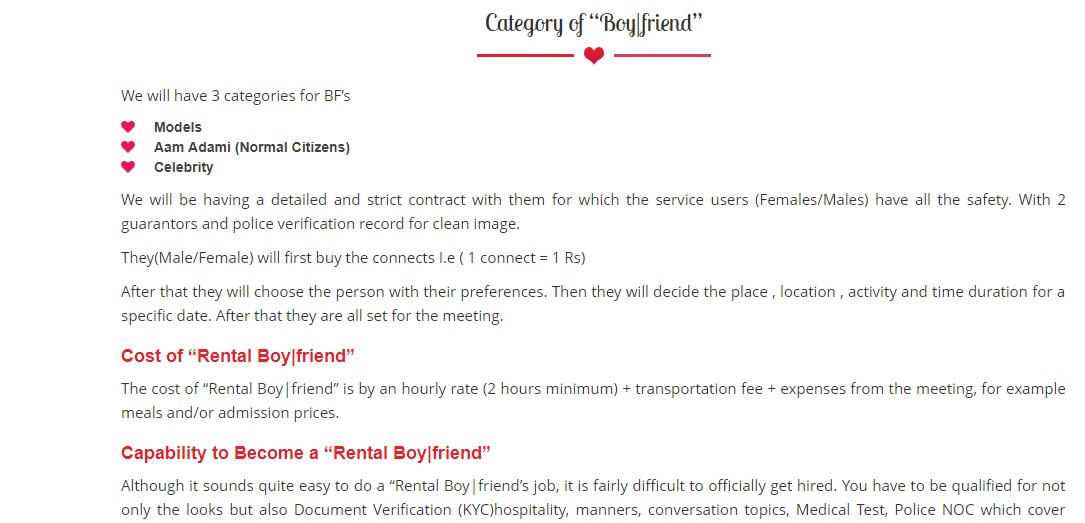 Is it a Thumbs up or Thumbs down??
...