The Great Khali, the WWE wrestler came forward to support the farmers' at the Tikri border on 1st December.
On his Instagram account, he shared a video of his presence with other farmers on the protest site and chanted 'Jai Jawan Jai Kisan'.
People loved his gesture & the participation in the protest.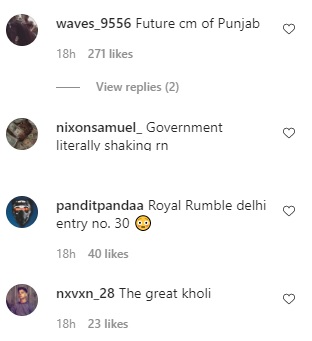 Several Bollywood celebs, former sportspersons including Padma Shri and Arjuna awardees are also against the 3 farm laws passed by the Union government.
Renowned Singer Diljit Dosanjh also came forward in support of farmers and tweeted, "Jai Jawan Jai Kisan, Politics Na Karo Rab Da Vasta. Masley Da Hall Karo Ji" (For god sake, don't do politics, resolve the issue).
Actress Gul Panag asked "Don't they deserve a hearing from the political leadership of the country?"
Celebs have extended their support to the farmers and also criticizes the use of force and water cannons on the farmers by the Haryana Police.
We hope, soon the government will sit with the farmers and sort the issues.
...