Hollywood actor and WWE champion John Cena's Instagram account is all about his famous line "You can't see me", actually, yes, you really can't see him but everyone else in his account.
He shares photos of common people, celebs, but not himself, and the reason is only with him.
This time it was Ranveer Singh's turn. John Cena shared Ranveer's photo on Insta, after which Bollywood actor Arjun Kapoor also commented on his post.
Ranveer Singh can't stop laughing and wrote "Kuch Bhi" with laughing emoji, while Arjun Kapoor hails Ranveer's photo, he commented 'baba baba baba'.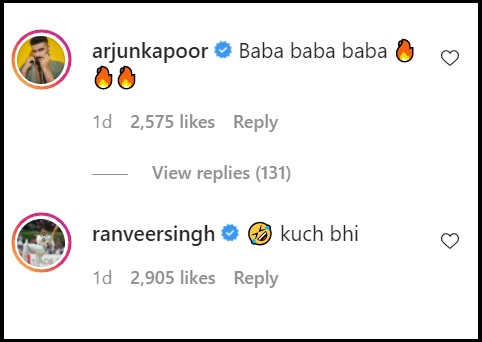 However, this is not the first time that John has shared a picture of Ranveer on his account. This year on 29 May, John Cena edited a photo of Ranveer Singh in Stone Cold Steve Austin theme poster and shared it on his Insta.
His love for Indians and Bollywood is evident; he has shared many Indian celebs photos on his Instagram. Like, Bigg Boss 13 contestant Asim Riaz, Irrfan Khan, Rishi Kapoor, Sushant Singh Rajput, Shilpa Shetty.
Many Indian users commented on John Cena's post. While the post has received mized response. One user wrote - 'Wtf John Cena becoming chappri'. While the other user wrote in the comment - 'People to john cena:- Oh pata nahi ji konsa nasha karta hai'. Other user posted a positive comment, said 'John Cena = DIL SE INDIAN'.
...