In a mood to shop your better half??
Don't take us wrong, wait...hold on!!
ON EARTH, Usually what happens, after carefully finding out love of our life, we start planning about the venue, we go for lehenga/saree/groom dress shopping, we check out the card designs, we talk to our 'would be' on phones for hours...and so on and so forth.
BUT this time it is not going to happen like the way it used to be.
Because
This matrimonial Ad has popped my eyes out and had raised a lot of questions in my mind, like:
I never thought, finding a girl/boy would be so expensive.
I thought finding a match is all about love, mutual understanding but it is actually not.
Last thought, are we really living on earth??
I am baffled because of this Ad which has been the talk of the town now, it says: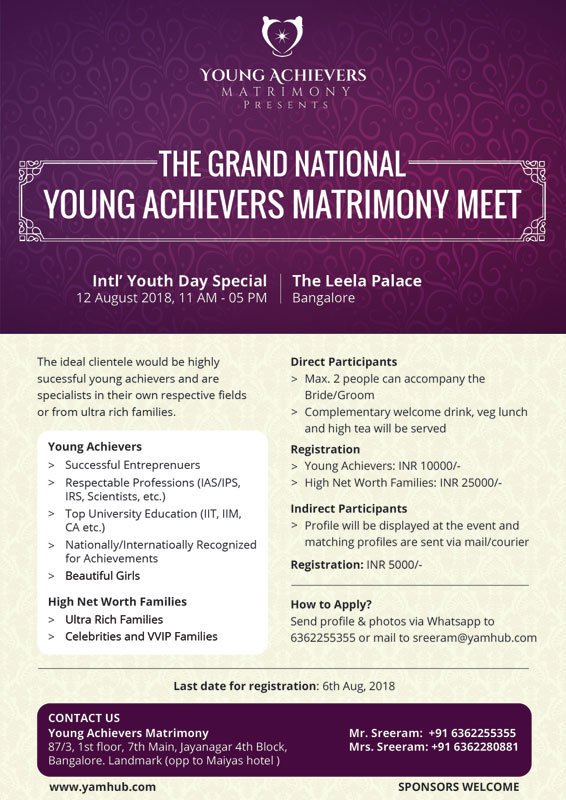 This ad has been styled in such a way which actually looks like we are going to shop for a luxury husband or wife.

For an ultra-expensive Swayamwar there is a grand meet up arranged by Young Achievers Matrimony "The Grand National Young Achiever's Matrimony Meet", this only invites 'Young Achievers' who are:
Successful entrepreneurs
Eminent professionals (IAS/IPS, IRS, Scientists, etc.)
Youngsters graduated from top universities (IIT, IIM, CA, etc.)
Highly recognized young achievers
Ultra rich families
Celebrities and VVIP families
So are you that young achiever or have 'Papa ka andha paisa' to attend this desi intellectual shaadi mela??
The ridiculousness does not stopped here, they are charging Rs. 10000(for young achievers) to 25000(high net worth families) for welcome drink, so-called-luxurious veg lunch and high tea at a 5 star hotel!!
Much WOW na??
They say,
"We carefully select our clientele as we have a rigorous process of scrutinizing each of our applicants and therefore our service is not for everyone." And my take on there statement is:

"They can't even spell achievers right". See below:

The ad does not go well with Twitterati. So they started with their grand tweets:
Matrimonial websites or agencies are expected to help find our better half, while this type model does not bring off the result (or is it? You all tell). What I think, it might not be liked by the millennial generation, and moreover, this type of advertisement has surely made us had a pretty loud laugh and at the same time a sense of rubbish Ad idea.
...