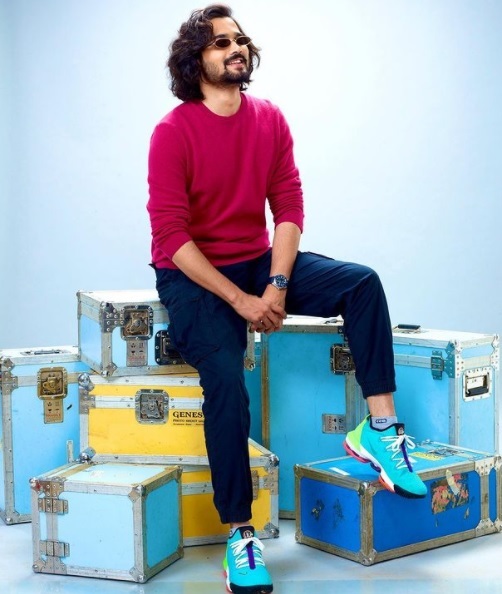 Bhuvan Bam was born on 22nd January 1994. His real name is Bhuvan Avnindra Shankar Bam. He is a well-known YouTube personality, comedian, actor, writer, singer, and songwriter. He was born in Baroda, Gujarat, later, his family moved to Delhi.
Bhuvan Bam Education:
He completed his schooling at "Green Fields School, New Delhi" and then went to "Shaheed Bhagat Singh College, New Delhi" from where he did graduation in History.
Bhuvan Bam Parents:
Bhuvan was born into a Marathi family, his father's name is Avnindra Bam and mother's name is Padma Bam, and he has an elder brother Aman Bam; who is a pilot. Bhuvan lost both his parents due to the COVID-19 second wave in 2021 and this loss had a very major impact on his life. He was very close to both his parents and loved them a lot. He used to share funny videos with his Aai (Mother) on Instagram.
Bhuvan Bam Dhindora:
In 2021, he released his own web series on his YouTube channel "Dhindora". This new web series "Dhindora" has been written by him alone; in the series, he is the actor, dialogue writer, and music writer for Dhindora. (To know more about Dhindora, you can read the full information here.)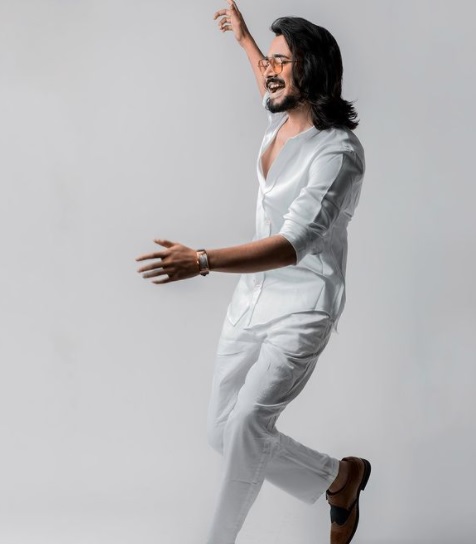 Bhuvan Bam Career:
After completing his 12th, he took a yearlong gap before he went to college to pursue further studies, he developed an interest in music, which led him to dream about becoming a musician, but his parents were not happy with the idea, but Bhuvan did not give up on this dream of his. When he was in college, he got himself trained in classical singing and later got an opportunity to sing at a restaurant in Delhi.
Starting his career as a singer in a restaurant, he went into composing music and playing instruments. Bhuvan made a small video that he uploaded online, where he was criticizing a new reporter for asking insensitive questions to a grieving mother who had lost her son during the Kashmir Floods, this video of his went viral in Pakistan. As soon as his reporter video went viral he started his own YouTube channel in 2015 by the name "BB Ki Vines".
Bhuvan Bam aka Bb Ki Vines first ever video:
The first-ever video that he uploaded on his channel was called "The Chakhna Issue", which got him only a few views and was later deleted from his channel.
Bhuvan Bam YouTube:
On his YouTube he has many videos, and, in those videos, all the characters are played by him only, and currently, his channel is so famous that he has more than 20 million subscribers.
Bhuvan Bam Music Videos and Web Series:
In 2016 he released a music video called "Teri Meri Kahani", which was followed by more songs called "Sang Hoon Tere", "Rahguzaar", and "Safar". Along with singing and starting his own YouTube channel, he was seen in the web series "TVF Bachelors, Season 1".
In 2018 he was seen in a short film called "Plus Minus", which he did with Divya Dutt, this short film even won him a Filmfare Award. In December of the same year, he started his series called "Titu Talk", where the first guest on this show was Shah Rukh Khan.
In 2019 he was seen in the web series "One Mic Stand", where he was a guest actor and he played Bhuvan's role and in the same year he also released another song of his "Ajnabee".
Bhuvan Bam Donations:
In 2020, when the global pandemic Covid-19 hit India, Bhuvan did not stop doing his work, even when the entire country was at a standstill; he shot a small video "Lifelines of Society" from home and raised funds for the migrants.
Bhuvan Bam and his Collaborations:
Over the years he has also collaborated with Pakistani YouTube channels like "Bekar Films" and "Karachi Vynz Official" and Indian YouTube channels like "TVF (The Viral Fever)" and made a video with them called the "TVF Bhootiyapa Bachelors Vs Ghost".
Bhuvan Bam Awards:
Bhuvan has been honored with and awarded many awards for his creativity and talent. In 2016 he was awarded "The Most Popular Channel WebTV Asia Award" for his channel "BB Ki Vines". In 2017 he was given the "Game Changer Award" by Hindustan Times and in 2019, he won a "Filmfare Award" for the Best Short Film for his short film "Plus Minus"
Ever since he was a child, he wanted to become an archeologist but his passion for singing took him in a whole new direction. He is someone who has inspired millions to focus on their passion, in 2016 he even gave a TEDx talk at Jaypee University and IIT Delhi. He was the first Indian individual YouTuber who crossed 10 million subscribers on YouTube in 2018. In 2020, he even was seen on the cover of the "Grazia Magazine"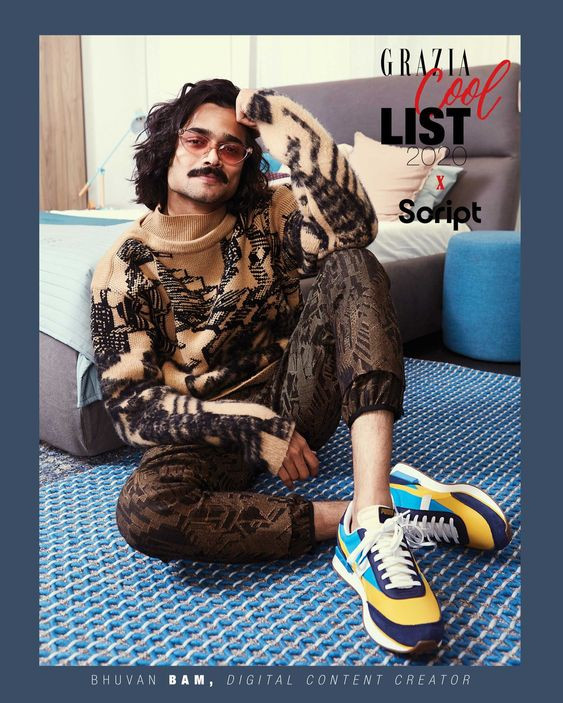 Bhuvan Bam Hobbies:
His hobbies are traveling and playing the guitar and he is also an avid dog lover and has a pet dog called "Maddy".
Bhuvan Bam Net Worth and Monthly Income:
He has come a long way, from earning Rs.5000 as a singer to now having a net worth in millions. His net worth is approximately around INR 15-18 Crore. Whereas his monthly income touches to INR 50-60 lakh per month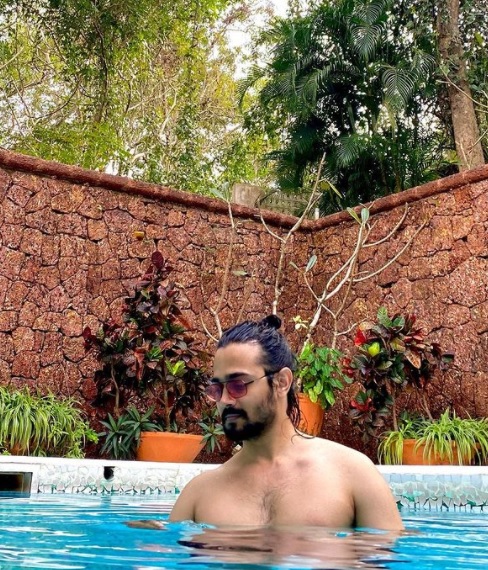 Bhuvan Bam Instagram:
With 12M+ followers on Instagram (@bhuvan.bam22) and more than 20M+ subscribers on YouTube (BB Ki Vines), he always gives the best quality to his loving Bb Ki Vines family.
...