India Vs. Pakistan be it in cricket or in any other sport is always highly charged and leads to jam packed stadium with emotions running high in both the countries. It is not just a match but also a serious matter of pride. Here are ten such great memories from India vs. Pakistan matches that has left a mark on all the cricket lovers.
1. Sarfaraz Ahmed and Virendra Sehwag
As opposed to the bittersweet relationship between both the countries, the players share quite a respectable relationship with each other. It was quite obvious when Sarfaraz Ahmed was trolled for his broken English but Virendra Sehwag was quick to come to his defence and applauded his capability for taking Pakistan to finals during ICC Champions trophy 2017.
2. Sachin Tendulkar And Abdul Qadir
This incident changed everything for a sixteen year old Sachin Tendulkar who smashed four sixes in Abdul Qadir's over who was considered one of the finest leg spinner of that time. Back in 1989, Sachin Tendulkar made his first ever debut against Pakistan in an exhibition match after the original ODI was cancelled due to bad lighting. At non-striker end Sachin was sledged by Qadir when he came up to him and said, "Bachchon ko kyon mar rahe ho? Hamein bhi maar ke dikhao" ("Why are you only hitting the kid? Hit me too.") This only fired Sachin who went on to smash four sixes in his over.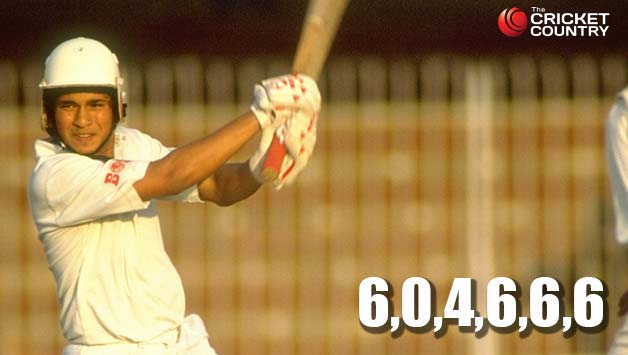 3. Dhoni and Pervez Musharraf!
During India's Lahore tour of 2006, Dhoni's 46 ball 72 not only guided India to victory over Pakistan but also led to Pakistan's own former President Pervez Musharraf heaping praises on the captain. He told Dhoni that he quite liked his long hairdo despite the placards in the crowd suggesting that he cut off his hair. His admiration for Indian captain Dhoni has only increased with years.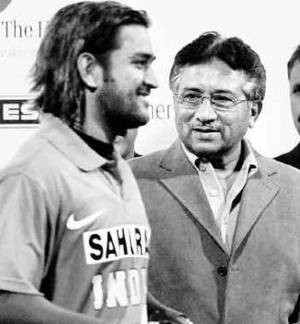 4. Harbhajan Singh's winning six on Mohammad Amir's ball
Asian cup of 2010 was rife with lot of on-field heated arguments between Gautam Ghambir, Kamran Akmal and Shoaib Akhtar. When Harbhajan Singh took the field he also exchanged heated words with Shoaib Akhtar in 49th over when he bowled a bouncer to him. This fired Bhajji and during the last over when India needed 2 runs off 3 balls, Harbhajan Singh smashed a winning six on Mohammad Amir's ball. This ended Pakistan's journey in Asia cup.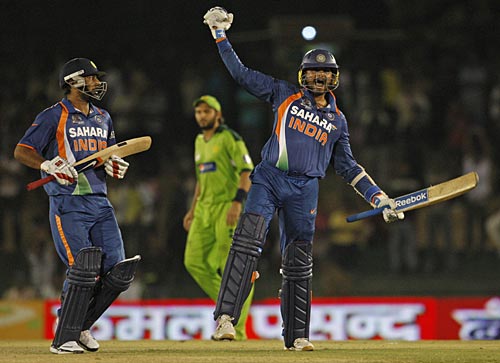 5. Ishant Sharma and Kamran Akmal
India and Pakistan's T20 in Bangalore in 2012 will be remembered for the heated exchange between Ishant Sharma and Kamran Akmal in the 18th over. This argument started when Akmal was caught out by Ishant Sharma but it was considered not-out due to no-ball. He was beaten in the next ball which resulted in a heated altercation between the two. The match referee didn't take kindly to this and fined 15 percent of match fees on Ishant Sharma and 5 percent on Akmal.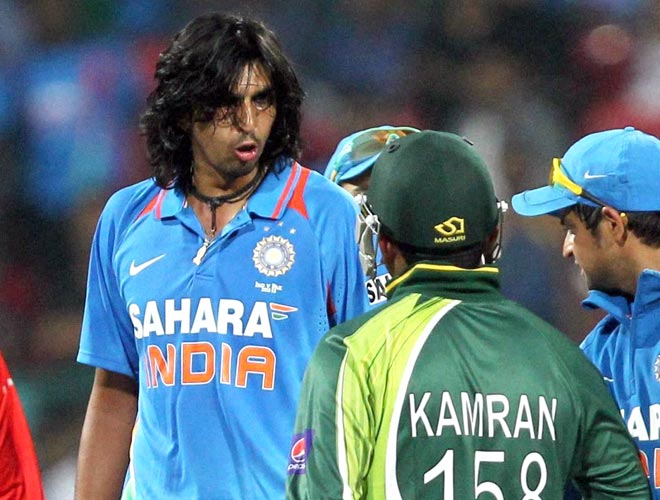 6. When Sehwag became Sultan of the Multan
In the city of Multan in Pakistan on the summer of 2004, Virendra sehwag scored his first ever triple century and also won the title of 'Sultan of the Multan' in the India vs. Pakistan test series. He scored massive 309 runs of just 375 balls. It was India's first triple century.
7. Fakhar Zahman helps Pakistan to win Champions trophy
This was a high voltage match between India and Pakistan. In 2017 edition of Champions trophy, Pakistan went on to beat India by 180 runs. Mohammad Amir's spell contained the Indian batting side who had massive 338 runs to chase. It was the new guy Fakhar Zahman who really crushed the hope of Indian side by scoring a century.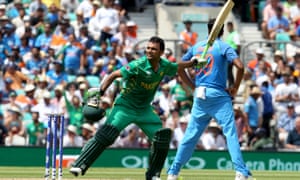 8. Mohammed Amir and Virat Kohli
Virat Kohli praised Mohammed Amir to be one of the toughest fast bowler he has faced in his career to which Amir replied that Virat Kohli is one of the toughest batsmen he has bowled to. This sweet exchange also resulted into Virat Kohli gifting Mohammed Amir a bat during their 2016 T20 clash which India went on to win.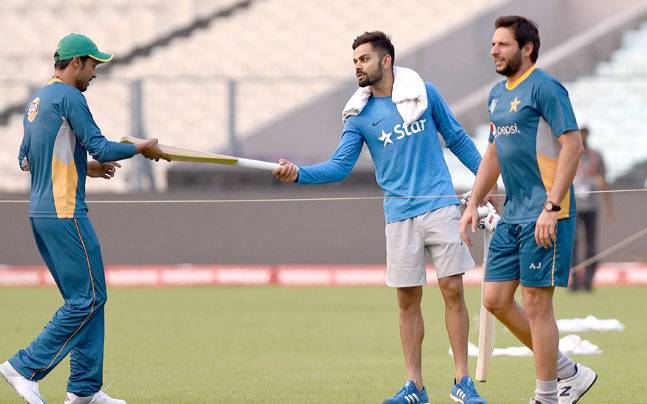 9. Javed Miandad and Kiran More
In Sydney world cup of 1992, India and Pakistan were against one another for first time ever. The things got pretty heated when Javed Miandad, who is known for his antics to get under the opposition's skin, annoyed at wicketkeeper Kiran More decided to mimic More with ridiculous leaps while clutching the bat with both hands. The things became quite heated after that and they both also got involved in a heated altercation which was broken by the umpire. Miandad made 110 runs on 40 balls but Pakistan lost the match by 43 runs.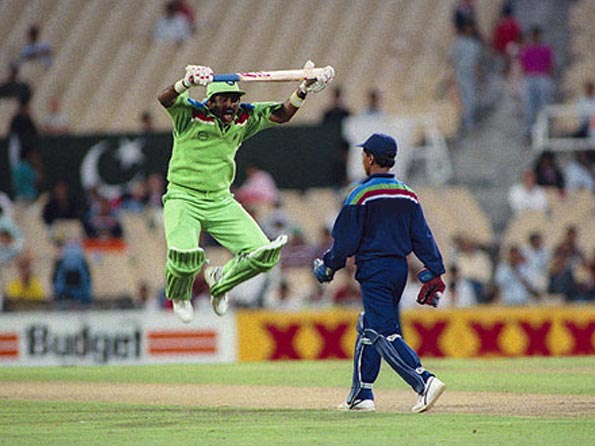 10. Anil Kumble's perfect 10!
Anil Kumble bowled his best figure in 1999 against Pakistan during second test match that was being held in Feroz Shah Kotla. This led to a massive 212 victory over Pakistani side and also Anil Kumble became second bowler in the world to haul 10 wickets in a match.
India and Pakistan matches are nothing if they don't have high emotions running all around. People hold high hopes and expectations when India is up against Pakistan. However, the players on-field have dealt with the pressure differently while some of them involving in heated altercations while others treating each other with utmost respect. Both the incidences make the game more memorable and interesting to the viewers.
**Do You Want Your Thoughts To Get Thousands Of Eyeballs? TabloidXO Allows You To Contribute Your Stories/Articles/Listicles/Videos. Who Knows You Might Get Featured At TabloidXO.
You Can Contribute At: contribute@clap2rammedia.com Or You Can Share It Here.